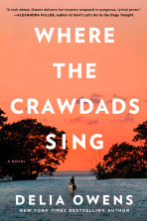 Title: Where the Crawdads Sing
By: Delia Owens
My Copy: Purchased at Barnes & Nobles
BookWhisperer's Rating:
For years, rumors of the "Marsh Girl" have haunted Barkley Cove, a quiet town on the North Carolina coast. So in late 1969, when handsome Chase Andrews is found dead, the locals immediately suspect Kya Clark, the so-called Marsh Girl. But Kya is not what they say. Sensitive and intelligent, she has survived for years alone in the marsh that she calls home, finding friends in the gulls and lessons in the sand. Then the time comes when she yearns to be touched and loved. When two young men from town become intrigued by her wild beauty, Kya opens herself to a new life–until the unthinkable happens.
If you are looking for a book that has developed characters, emotional chapters, heartbreaking circumstances, and an all out confusion of what truly happened until the last page, then this is a book for you.
I was immediately drawn to Kya and her life. Born a Marsh Girl, Kya is left to defend for herself when everyone in her family leaves her one by one. How can a little girl survive with no money, little human contact, and no love from her parents? My heart broke for Kya and the only life she has ever known. I wanted to go to that marsh, scoop her up in my arms, and carry her to my home so she could have well-cooked meals and love.
However, this book isn't all just about Kya and her struggle to survive, learning how to interact with humans, and growing up; this book is about much more. We follow Kya as she learns and grows but we also follow a murder of a local town person. Switching back and forth between chapters of Kya's life and the murder of Chase, you get immediately get sucked in to the pages between the covers.
It was beautiful to watch Kya befriend Jumpin', Mable, and Tate. The relationship that Kya had with Jumpin' and Jumpin's wife Mabel gave me hope that she would learn love and how to love others. The friendship she had with Tate mystified me. A boy a little older than she, he taught her so much and was patient with her in the process. These people gave her life meaning when she didn't even know she needed them.
I highly recommend this book to anyone. In fact, I have been telling everyone I meet to read this book.