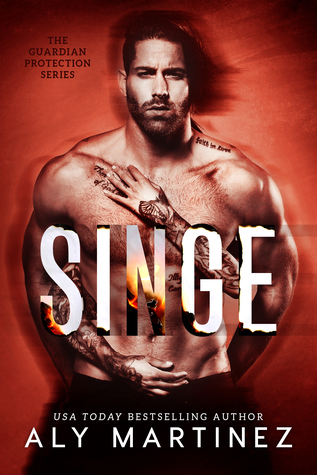 Title: Singe
By: Aly Martinez
My Copy: Ebook from Publisher
The BookWhisperer's Rating:
She was my nightmare. Every time I closed my eyes, I watched her fall into that inferno. Over and over, I failed to save her.
I hadn't been able to reach her, and the guilt only burned hotter over time. Four years later, I was the unreachable one.
Heroes aren't always saints. Sometimes, we're nothing more than jaded sinners driven by sleepless nights and hearts full of darkness.
And then I met her. She was a dreamer who managed to soothe my scars and heal my wounds.
But, as the flames closed in around us, I feared I wasn't the right man to save her. That is until I realized she was the one woman I'd burn the world down to protect.
And she does it again! Seriously, so, so, good. It was possibly everything I wanted and more in a book and I devoured it within days. I just couldn't get enough of Jude and Rhion. I couldn't get enough of the secondary characters; all of those men that Jude works with seem insanely wonderful.

I can't wait to read more about them.
Jude meets Rhion in an unfortunate event. While responding to a call, Jude drives up to a house fire where he spots a woman trapped in the upper level.

Saving her doesn't work out as planned and nightmares haunt him for years afterwards. Then while taking a job in a new city, he meets Rhion and truths are revealed.
These two characters were just as destructive as they were amazing together. Jude is an overprotective and possessive alpha male who knows what he wants and gets it.

His problem is that while he wants Rhion, badly, he doesn't feel worthy of her.

Rhion is just as broken as Jude but in her own way.

Stuck in constant fear, she has hired the services of Guardian Protection and finds herself in the presence of Jude, a hero from the past.
Jude is the alpha-y of the alphas and would fit perfectly in a Kristen Ashley book.

Less words, more action, extreme possessiveness and this all worked for him.

He was perfect!

He knew how to be professional and protective when needed and he also knew how to be possessive and hot when the clock struck 5pm.

(And let me just say, that scene….wowza!)
So this book is a must and to prove it, I will leave you with this… "Love rarely makes a man smile.

Especially if said man is me and he has to deal with a crazy woman like you.

That doesn't mean I wouldn't burn the world down for you.

Extinguish an entire species.

And then place their ashes at your feet if it meant you'd smile…"