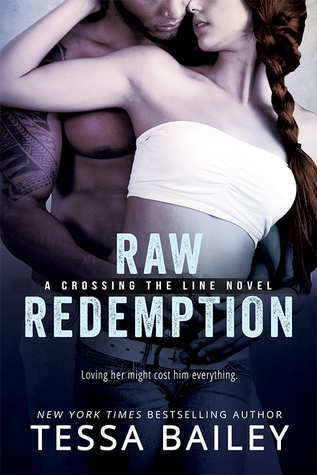 Title: Raw Redemption
By: Tessa Bailey
Series: Crossing the Line #4
My Copy: Ebook from Publisher
The BookWhisperer's Rating:
Disgraced cop Henrik Vance is having a shit year. Banished to a derelict undercover squad, he's been tasked with hunting down the daughter of Chicago's most dangerous criminal. His obsession with saving the beautiful girl destroyed his career. And this time, it might cost his life.
Ailish O'Kelly doesn't need a hero. She'll save
herself
from her father's violent criminal dynasty, thank you very much. Unfortunately, the sexy as sin cop who crashes her hideout isn't hearing reason—especially not after the kiss that becomes
much
more.
His boss wants her as an informant. Ailish wants Henrik to keep whispering filthy things against her skin. But she knows too well the evil they're up against, and when it comes down to protecting the man who owns her body and soul, she only has one choice…
Yes! Yes! Yes! And No! No! No!
Yes, Henrik and Ailish were magnificent and with this, I grant you with a background story.

Ailish's father is a crime boss and because of this, the police bring her in with evidence against her. Henrick sacrifices his future and his badge by destroying evidence that would send Ailish to jail even though he doesn't know her. #loveatfirstsight

After this, Ailish runs away and Derek (the derelict captain of Henrik's squad) sends Henrik after her.
Their passion was off the charts.

I felt the want and need between them and the constant teasing kept me craving the moment when they finally got together.

When they finally did, Henrik gave it good and dirty, just how I like my Bailey men.

But the best thing about Henrik was instant love (and in this case, instalove was just what I wanted) for Ailish, his protectiveness, and his willing to let her be her, even if it put her in danger (but he was right by her side the entire time.)

He was a fantastic character that kept getting better as the pages turned.
At first, Ailish's character seemed a little weak and bland but she quickly became strong and showed her intelligence (except for teasing Henrick at the wrong times) and became a solid heroine.

She stood for what she believed in, which is why she got out from underneath her father's thumb in the first place, and was the perfect match for our dear Henrick.

And, they find out that she has a certain type of skills that makes her fit in quite nicely with the squad.
No, the series is over…*cries* I have really enjoyed this series and the characters that Bailey developed. If anyone can write dirty-talking, sexy, domineering men, it is Tessa Bailey.

While I am sad that this series had ended, I am excited to see what else Bailey can dream up and bring to life.