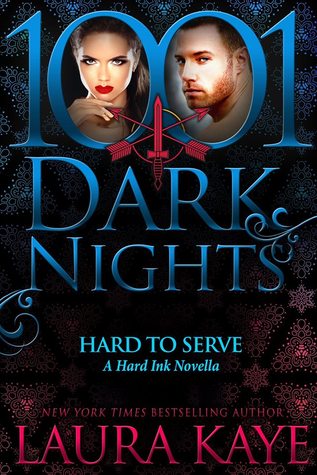 Title: Hard To Serve
By: Laura Kaye
Series: Hard Ink #4.7
My Copy: Ebook from Publisher
The BookWhisperer's Rating:
To protect and serve is all Detective Kyler Vance ever wanted to do, so when Internal Affairs investigates him as part of the new police commissioner's bid to oust corruption, everything is on the line. Which makes meeting a smart, gorgeous submissive at an exclusive play club the perfect distraction…
The director of the city's hottest art gallery, Mia Breslin's career is golden. Now if only she could find a man to dominate her nights and set her body—and her heart—on fire. When a scorching scene with a hard-bodied, brooding Dom at Blasphemy promises just that, Mia is lured to serve Kyler again and again.
Then, as their relationship burns hotter, Kyler learns that he's been dominating the daughter of the hard-ass boss who has it in for him. Now Kyler must choose between life-long duty and forbidden desire before Mia finds another who's not so hard to serve.
Hats off to Laura Kaye for writing this hot little ditty.
I honestly wasn't expecting the pure satisfaction out of these two characters that I received.

For me, sometimes novellas are hard to get into because they are these short and sweet writings and while I usually like them, I never feel like I really get to know them in such a short time frame.

However, with Kyler and Mia, it was all perfect.
LK wrote two wonderful characters that were able to meet, learn who the other was, grow with each other, and face uncertainties.

It was pure hotness all around.

I cannot deny that Kyler and Mia created a fantastic couple together and that this time together made for a steamy read.
Now I haven't read all of LK's books but this is the first D/s book of hers that I have come across and I have to say that she nailed it and I am looking forward to more. I will also say that I hope this turns into a series because LK set up some pretty interesting characters at the club that I would love to read about and see who she pairs them up with and I hope it is a beautiful pairing like Mia and Kyler.