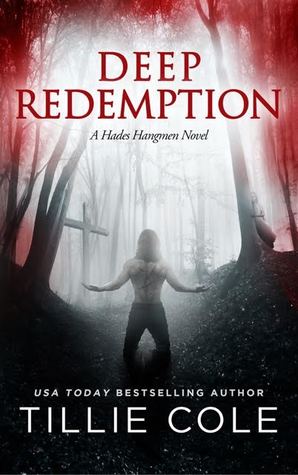 Title: Deep Redemption
By: Tillie Cole
Series: Hades Hangmen #4
My Copy: Ebook from Publisher
The BookWhisperer's Rating:
ONLY THROUGH BLOOD CAN THE DEEPEST REDEMPTION BE FOUND…
He was never meant to fail.
Prophet Cain lies broken and defeated on the floor of his cell. A cell he has been thrown into by the one person who was supposed to stand by his side until the end. His flesh and blood, his only companion. His beloved twin brother.
Cain has sacrificed everything for his people. He left the safety and security of his life of study to infiltrate the infamous Hades Hangmen. He lived with them, rode with them, and then betrayed them. All in the name of a faith he can now feel slipping away from him. Like everything else he once held dear…
But then his isolation is broken. Another prisoner is brought to the cell next to his. A woman fighting her own demons and fears. A woman who Cain understands needs him, as he needs her.
As the connection between them grows, so does Cain's resolve. He will right the wrongs he has done. He will atone for the evil acts carried out in his name. He will save the one he loves…
… Even if the battle takes him to the gates of hell itself.
Okay, I am going to admit it; I have always had a soft spot for Rider/Cain since the first book.

Something about his innocence and hardness made me want him to open his eyes and truly see the world for what it is but in the last three books he walked through life with closed eyes and made some pretty powerful enemies; one being his brother and the other being the Hangmen's gang.

While I hoped for Rider to find clarity, forgiveness, and a picture perfect life, Tillie rocks us with her own agenda for Rider and a new addition to the community, Harmony.
While I would love to sit down and hash out all that happens in Deep Redemption, I can't because you really need to read it for yourself and experience all the ups and downs that Tillie provides.

This is quite possibly the hardest thing to do in this review because I want to talk about everything that happened.

I want to talk about Harmony and how she ties in, Rider's horrible relationship with his brother, the Hangmen gang (with their beautiful wives/girlfriends), and just about everything else. That shows you how amazing Tillie has made this book!
I will say that I love the deep darkness that we are thrown into when we get wrapped up in these books.

It is rare that you have a feel good kind of chapter and if you do get one of those, it doesn't stay for long.

I also loved the snippets that we get of Styx, Ky, Flame, Mae, Delilah, and Maddie.
Dark and twisted, yes.

Violent and horrifying, yes.

Betrayal and revenge, yes.

Love and forgiveness, yes!

And that is all you need to know.