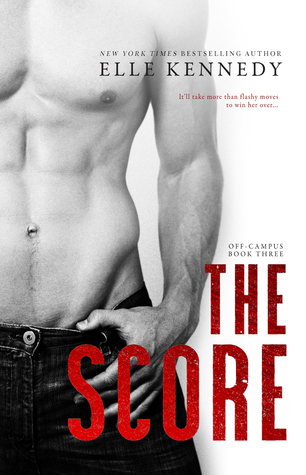 Title: The Score
By: Elle Kennedy
Series: Off-Campus #3
My Copy: Amazon.com
The BookWhisperer's Rating:
He knows how to score, on and off the ice
Allie Hayes is in crisis mode. With graduation looming, she still doesn't have the first clue about what she's going to do after college. To make matters worse, she's nursing a broken heart thanks to the end of her longtime relationship. Wild rebound sex is definitely not the solution to her problems, but gorgeous hockey star Dean Di-Laurentis is impossible to resist. Just once, though, because even if her future is uncertain, it sure as heck won't include the king of one-night stands.
It'll take more than flashy moves to win her over
Dean always gets what he wants. Girls, grades, girls, recognition,
girls
…he's a ladies man, all right, and he's yet to meet a woman who's immune to his charms. Until Allie. For one night, the feisty blonde rocked his entire world—and now she wants to be
friends
? Nope. It's not over until he says it's over. Dean is in full-on pursuit, but when life-rocking changes strike, he starts to wonder if maybe it's time to stop focusing on scoring…and shoot for love.
I have been waiting to read this book and my want would up every time someone would post a wonderful review.

I knew that I was going to love Dean and Allie's story because I had loved the other Off-Campus books, so when a time frame popped open for me to read this book – I totally jumped on it.
Two days; it only took two days for me to zip through this book and realize that not only "The Score" but also the whole series is just amazing.

Dean and his casual ways with women is everything that Allie doesn't do but hiding from her ex brings them together and Allie finds that casual isn't so bad.

But this casual builds daily and Dean and Allie find themselves reliant on each other but they keep it a secret, lying to their friends and themselves so their relationship isn't drawn in the sand and real.
Dean is the perfect bad boy that hides this wonderful man inside – of course he is the kind of guy that all women want.

He plays hockey, he is book smart, he lives wildly, and he is sexy. But the best part about him is the way he treats Allie.

So very loving to her, so very protective of her, he has a hidden heart of gold.

And that heart of gold starts to shine around Allie, the girl who teaches him that there is more to relationships than just casual hookups.
Allie-cat rocked!

She knew what she wanted, she stood up for her future, and she didn't take crap.

This part is very important because while you will love the moments between Dean and Allie together, and you will laugh at the banter between them, and you will sweat a little when things get a little dirty, there is one very important message in this book and it is slut shaming.

Allie gets handed a rough speech for her casual hook up and I thought that Elle Kennedy did a wonderful job shutting down the hater and the biasness that happens in this world.
Great book….great series….and I am so looking forward to Tucker's story next.