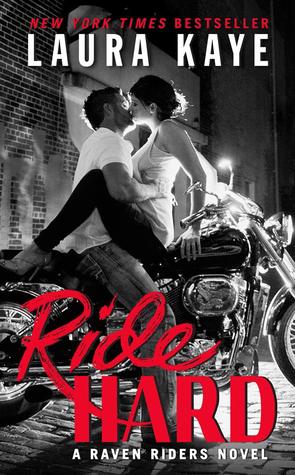 Title: Ride Hard
By: Laura Kaye
My Copy: Ebook from Publisher
The BookWhisperer's Rating:
A shy and distrustful woman running from a controlling ex-fiance seeks shelter with an outlaw motorcycle club with a tradition of protecting those who can't defend themselves, and falls under the watchful eye of the club's mysterious and intense leader who's intent on discovering all her secrets
Brotherhood. Club. Family.
They live and ride by their own rules.
These are the Raven Riders . . .
Raven Riders Motorcycle Club President Dare Kenyon rides hard and values loyalty above all else. He'll do anything to protect the brotherhood of bikers—the only family he's got—as well as those who can't defend themselves. So when mistrustful Haven Randall lands on the club's doorstep scared that she's being hunted, Dare takes her in, swears to keep her safe, and pushes to learn the secrets overshadowing her pretty smile.
Haven fled from years of abuse at the hands of her criminal father and is suspicious of any man's promises, including those of the darkly sexy and overwhelmingly intense Ravens' leader. But as the powerful attraction between them flares to life, Dare pushes her boundaries and tempts her to want things she never thought she could.
The past never dies without a fight, but Dare Kenyon's never backed down before . . .
I loved the Hard Ink series and I have been waiting for the Raven Riders series to begin because Laura Kaye + Bikers = just what this girl needs.
Haven flees from her abusive father and lands in the hands of the traffickers we meet in Hard Ink.

After being saved, Haven and her friend Cora is housed by the Raven Riders, who take in those who are defenseless and need protection.
There were things that I liked - a new series by Laura Kaye because she is fantastic and I love reading what she publishes.

I liked knowing how the Ravens reacted to the death of two club members after the wrap up of Hard Ink because you don't get to see how they handle it when the story was focused on Nick and his gang.

I liked how protective they were and relocated people out of the club's funds so that they no longer had to live in terror.

I also liked getting to know the background of the club members. All seemed very interesting and I am sure their stories will just add to this series.
However, I did find that there were some dislikes lurking around.

What was hard for me to wrap my head around was the sweetness of the club members.

Each member didn't seem like a badass biker dude, which is what I was hoping for.

I'm not saying that they had to go commit violent crimes, I just felt like they needed to be a littler edgier.

I know that I stated above that I liked how protective and invested they were to those who couldn't defend themselves but it seemed that everyone was just nice as pie and it was hard to see that being that they were a biker gang.
I also had a hard time understanding Haven and Dare's relationship.

Haven, coming from an abusive home, quickly started to trust Dare only after a few interactions with him.

One moment, he would woo her and she would be wrapped around his fingers and the next he would say something horrible to her and she would just stand for it.

It was a teeter-totter of Dare being sweet and then being nasty to her.

He knew what she had been through but still would push her away in the worst ways.
Then there was Haven's extreme innocent side that would all of a sudden turn into lust-ville in a matter of seconds.

One moment she would be shy and refuse to come down to talk to anyone, taking her dinner up in her room, and the next she would all over Dare.

It was hard to add up for me.
I am curious to see how the rest of the series plays out.

I believe Laura Kaye has set us up for a good one. (Even though I had a hard time getting into this one doesn't mean that I still don't love her and her books and am looking forward to more.)