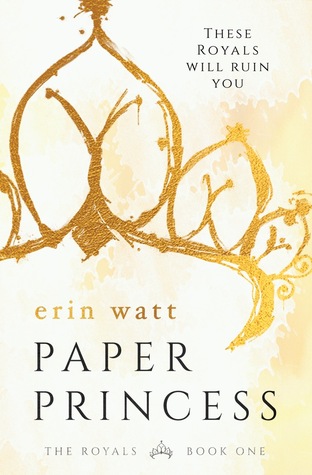 Title: Paper Princess
By: Elle Kennedy and Jen Frederick
My Copy: Ebook from Author
The BookWhisperer's Rating:
From strip clubs and truck stops to southern coast mansions and prep schools, one girl tries to stay true to herself.
These Royals will ruin you…
Ella Harper is a survivor—a pragmatic optimist. She's spent her whole life moving from town to town with her flighty mother, struggling to make ends meet and believing that someday she'll climb out of the gutter. After her mother's death, Ella is truly alone.
Until Callum Royal appears, plucking Ella out of poverty and tossing her into his posh mansion among his five sons who all hate her. Each Royal boy is more magnetic than the last, but none as captivating as Reed Royal, the boy who is determined to send her back to the slums she came from.
Reed doesn't want her. He says she doesn't belong with the Royals.
Wealth. Excess. Deception. It's like nothing Ella has ever experienced, and if she's going to survive her time in the Royal palace, she'll need to learn to issue her own Royal decrees.
HOLY SHITAKE MUSHROOM! Blown away is the only thing I can say right now.

Let's hope that I am coherent enough to do this book justice in this review.
From the very beginning I was hooked and curious and filled with all sorts of emotions.

Ella has had a crappy life and when a too good to be true opportunity comes, she is hesitant but not dumb to where she doesn't take it.

This leads to her becoming apart of the Royal family where money does grow on trees.

If you think that this is going to be a sappy, "oh, look, she is finally happy and has everything she deserves" kind of book then you are wrong.

It is like every teenage soap I watched when I was younger, which is probably why I ate this book up.

Combine The O.C., Gossip Girl, One Tree Hill, and Cruel Intentions and you have hierarchy, rich spoiled snobs, sex and drugs, lost teenager kind of book but so much better.
You would think that it would be an easy life for Ella but after meeting the five Royal sons and Reed Royal declaring his "Royal Decree" against Ella, it doesn't get easier at all.

Getting constantly knocked down and clawing her way back up again is all Ella can do and it keeps getting harder after she starts to see who her "brothers" truly are inside.

And it especially once feelings start to brew.
Now I will say that the ending of this book left me with my mouth hanging open and immediately investigating to when the next book is going to come out.

It is not a secret that it ends with a cliffhanger but for some reason it felt like the cliffhanger of all cliffhangers.

Crap happens through this entire book, and then a little ray of sunshine shines down and you get this warm feeling like life will be good and then BOOM…that last page comes and boy is it a doozy.
So let's recap: I loved the book and am completely invested in the characters and I need the second book now please. Pretty please…