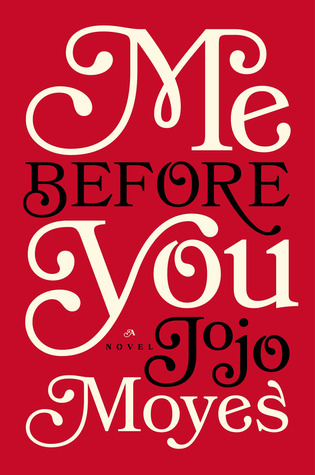 Title: Me Before You
By: Jojo Moyes
My Copy: Amazon.com
The BookWhisperer's Rating:
Lou Clark knows lots of things. She knows how many footsteps there are between the bus stop and home. She knows she likes working in The Buttered Bun tea shop and she knows she might not love her boyfriend Patrick.
What Lou doesn't know is she's about to lose her job or that knowing what's coming is what keeps her sane.
Will Traynor knows his motorcycle accident took away his desire to live. He knows everything feels very small and rather joyless now and he knows exactly how he's going to put a stop to that.
What Will doesn't know is that Lou is about to burst into his world in a riot of colour. And neither of them knows they're going to change the other for all time.
It has been exactly two hours after I have finished the book and still the tears are welling up in my eyes.

I don't think I can fully express all of the complex feelings that have jolted through my system while immersed in this book.
Most of you have probably already read Me Before You, yes, I am late to the game, but hey, at least I showed up!

Most of you probably already know what brilliance lies between these pages or the emotion that has taken residence in your soul after finishing that last line.

I have to admit that it has been a while since I have felt so tearfully exhausted after reading a book – it's probably been since the last Harry Potter book that I have cried this hard.

So let's get on with it…
Me Before You was suggested by one of my friends and after she suggested it, she stated that when I finished she would be there to hold me while I sobbed.

Well, she wasn't but she did get a phone call late at night telling her how much I love her for suggesting the book and how much I hate her because now my face was all swollen and blotchy.

A fair warning, this book is a ride.

Lou is the perfect, unique character that brings a new flair to Will's life.

She can match his witty insults just as well as she can be the person who Will confides in.

Will sees all sorts of latent potential in Lou and slowly pushes her to broaden her horizon, to dream big, and be great.

These two characters meeting and interacting with one another builds a great story but for me the greatness came when I reached around 75% in the book.

Three-fourths into the book is when the weeping, snotty, sobs came and they didn't stop until the end.

Actually, they still haven't stopped.

I literally had to walk away from my book to do something around the house because I couldn't read with all the tears stuck in my eyes and even while writing this I am tearing up.
This book is completely worth all the smiles you will smile while reading it.

It is worth all of the frowns that will cross your face.

And most importantly, it is worth all the tears that will stream down your cheeks for it invokes emotions that were far too much for my poor system to handle.

My suggestion is to read it and if you have gotten to this part and have not shed a tear, then you, my friend, are lucky because by then I was a blubbing mess.
"So this is it. You are scored on my heart, Clark. You were from the first day you walked in, with your ridiculous clothes and your bad jokes and your complete inability to ever hide a single thing you felt. You changed my life so much more…"