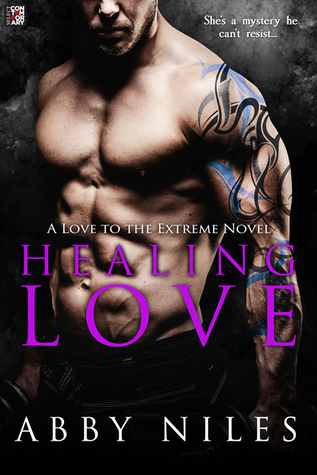 Title: Healing Love
By: Abby Niles
Series: Love to the Extreme #4
My Copy: Ebook from Publisher
The BookWhisperer's Rating:
Doctor Ella Watts wants her old life back. Desperately. But the past has returned for its rematch, and going back home—even telling anyone her real name—isn't an option until she's confident in her MMA abilities. Personal trainer Lance Black is the man to help her reach her goals. Not only is he toned, muscular, and gorgeous, he's patient, a great teacher, and willing to treat her like a worthy opponent. Except his size makes her freeze whenever he gets too close. If Ella can't learn how to overcome her fear of being attacked, she'll never be able to move on with her life.
Underground fighter Lance Black knows there's more to the mysterious blonde ninja than a beautiful woman determined to improve her fighting skills. She can best anyone close to her size – man or woman – but insists on working out with him, even though he's got a good 70 pounds and several inches on her. Despite her reticence, he's determined to get her to open up so he can help her get over her mental block. And if that means he can get to know her outside the gym, all the better.
As long as she never learns his secrets.
I have read the first three books in the series "Love to the Extreme" and was excited to get my hands on the fourth book "Healing Love."

The synopsis sounded great; it made Ella seem mysterious like she was hiding a secret and Lance seem like a badass trainer.

And that is how it started out for me.

Ella starts the story out by signing up for training and on her way out, she gets mixed up in Lance's business that causes a lot more trouble for her than she bargained for.
I think I was a solid story line but for me the characters lacked somehow.

I didn't find myself feeling much for Ella or Lance or really anyone in the story besides Skylar (and it was probably because she was so adorable but she was hardly in the story.)

This made it hard for me to really immerse myself into the book and live out the pages with the characters.

I wanted to, believe me but it didn't connect with me.
Just because I didn't connect with the characters doesn't mean that the story wasn't written well and the all the plot lines weren't tied up neatly at the end.

I was worried that some of the small little plot lines were going to be forgotten and leave me wondering what happened but Abby Niles didn't do that to me.

She carefully closed each little story by the end of the book.