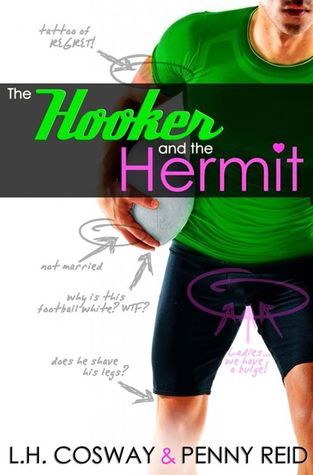 Title: The Hooker and the Hermit
By: L.H. Cosway & Penny Reid
My Copy: Amazon.com
The BookWhisperer's Rating:
Blogging as *The Socialmedialite*
LADIES AND GENTS! I have an announcement!
You know that guy I featured on my blog a few months ago? The really, really hot Irish rugby player who plays the position of 'hooker' in the RLI (Rugby League International)? The one with the anger management issues, the body of a gladiator and the face of a movie star? The one with the questionable fashion choices leading me to ask whether he was the lovechild of a leprechaun and a hobbit? Ronan Fitzpatrick? Yeah, that guy.
Well, I have a confession to make…
Annie Catrel, social media expert extraordinaire at Davidson & Croft Media and clandestine celebrity blogger, can make anyone shine in the court of public opinion. She is the Socialmedialite, anonymous creator of New York's Finest and the internet's darling. Virtual reality is Annie's forte, but actual reality? Not so much.
Ronan Fitzpatrick, aka the best hooker the world of rugby has seen in decades, despises the media—social or otherwise. The press has spun a web of lies depicting him as rugby's wild and reckless bad boy. Suspended from his team, Ronan has come to Manhattan to escape the drama, lay low, fly under the radar. Only, Ronan isn't easy to overlook, and he can't escape the notice of the Socialmedialite…
When Ronan is sent to Davidson & Croft Media to reshape his public image, he never expects to cross paths with shy but beautiful Annie, nor does he expect his fierce attraction to her. He couldn't be happier when her boss suggests pairing them together.
What lengths will Annie take to keep her virtual identity concealed? And what happens when the hooker discovers who the hermit really is?
So if you know me at all, you know I love me some Penny Reid and I couldn't imagine that I wouldn't love Penny Reid with another author…and, I WAS RIGHT!

It took me a while to finally get to this book but that doesn't mean that it wasn't whispering in the back of my head, begging me to read it because I knew that it was going to be brilliant.
Yes, yes to all of it.

It was brilliant.

It was well written and thought out.

It is the kind of book that you fall in love with because you love the two main characters, Annie and Ronan.

You love the awkwardness of their encounters and the pureness of their beings.

The two are different in every aspect.

Ronan is used to fame since he is a fantastic Rugby player while Annie is exactly what the title calls her, a hermit.

She is confident behind the screen of her computer but when it comes to social outings, Annie is backward in every way.
Annie is hired to change Ronan's public image, a task that she is a master at but has no want to do so.

However, Ronan has made it clear that if it is to be done then Annie is the only one he will work with.

This brings the two closer and makes super adorable moments that made me sigh in content and swoon (for Ronan.)

Remember me telling you that Annie is an introvert and because of her childhood she doesn't even try to build relationships with people?

No? I didn't? Well, she is an introvert who doesn't even have a friend because she never wants to feel the feeling of abandonment again.

This proves to be a tricky situation since Ronan is running full force into their relationship while Annie takes one step forward and two steps back.

Each character has a fault that can destroy this relationship but together they might just overcome it if both are willing.
L.H. and Penny are perfect together because they both bring this element of witty banter, dirty whisperers, brilliant humor, and a perfect sense of romance.