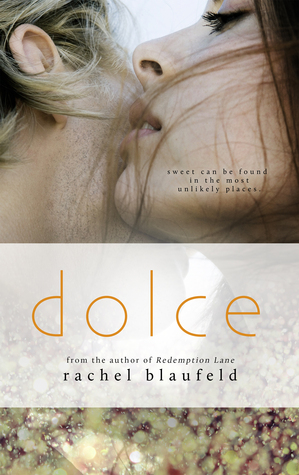 Title: Dolce
By: Rachel Blaufeld
Series: Love at Center Court #2
My Copy: Ebook from Publisher
The BookWhisperer's Rating:
"Who just stole my thunder across the Hafton airwaves, you ask? Right now, right this very second, listeners, I have Hafton's one-and-only, the main man with the ball in hand, Blane Steele is in the studio. Mark my words—he'll not only steal the ball, but your lady's heart too. Watch out, gentlemen, the Stealer is in the house!"
— Sonny Be Knocking Boots, Hafton Radio 96.9
Angst-ridden twists in fate.
Caterina is an intern. Sonny is her shock-jock boss. And Blane is a good-hearted baller…except when he steps on the court. Between on-air dares, an evil feminist professor, a straight-shooter of a coach, and rumors from the league surrounding Steele, these three are destined to screw it all up.
Rather than a love triangle, this is a friends-to-lovers story where the disc jockey acts as the catalyst, and a basketball player finds his life transformed when center court intersects with love.
This review is going to be a hard one for me so please stick with me as I try my best to explain all the things that I loved and all the things that were confusing.
Blane and Cate's worlds collide while Blane accepted to do a piece on Sonny's (and in my opinion the college jerk) show and Cate, Sonny's intern, comes busting in the interview with her foul mouth spewing words and her clumsiness.

This moment started not only the beginning of the book but the attraction for each character (and it was some sexy attraction.)

But their love story wasn't the only story happening in this book.

The other subplots did a lot, in my mind, to make my love for Dolce wax and wane off and on.
Let's talk about what I loved:
Blane was amazing!

Seriously, a smart and sweet basketball player that had the looks and was an all-around good guy made him my favorite character.

He was there for his friends when they needed him, he was there for his school and rocked his athletic title, and he was there for Cate the entire book.

Once he saw her, he knew she was different from all the other girls and was instantly driven to get to know her.

And the way he got to know her was so gentle and sweet that you knew there was more to this man than just an athlete.
Cate's sass made me deliriously happy.

I love it when a girl can give it as good as she gets it.

There was always a comeback, a witty reply, or a stand up for how she felt when she was in her sass-tastic mood (yes, I made a word up.)

But that mood didn't continue throughout the entire book and that is where I got lost.
So, without shedding any spoilers, something happens and Cate gets the wrong side of the deal.

This sends her into a tailspin of reevaluating what she is doing with her life.

With this reevaluation comes some, what I would say, bad choices that I couldn't quite understand.

Even if I just accepted the fact that Sonny and Cate's horrible professor could do what they did and get away with it (side note: they couldn't at all!) I still can't see why Cate chose the path that she did in the end.

Cate went from a sass-maniac to a very meek woman in a matter of pages.

And then to pick up a new profession that would never be something that the earlier Cate would do, really threw me off, even if it was an undercover project.

I think this is where I found myself wondering why couldn't this story just be about Cate and Blane's love story and not about all these other over the top subplots.
There you have it.

I loved Cate and Blane's love for each other.

How they got to know each other and took things slow.

I couldn't get behind the extreme happenings that character change for Cate in the end.