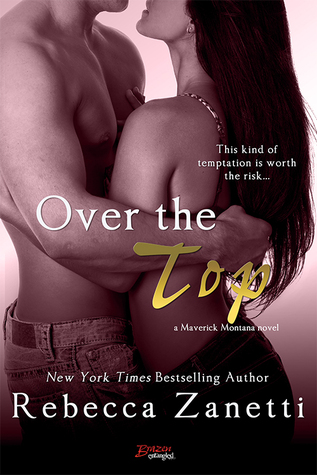 Title: Over the Top
By: Rebecca Zanetti
Series: Maverick Montana #4
My Copy: Netgalley.com
The BookWhisperer's Rating:
Dawn Freeze had a huge crush on Hawk Rain for years, and the entire town knows it. It's understandable
―
the man is total hotness. That tall, lean body. Intense dark eyes. And always one foot out the door. Now he's on leave for exactly one week. And this time, he's made it crystal clear that he only wants one thing. Her.
Hawk's been fighting his attraction to Dawn for as long as he can remember. She's his best friend's little sister, and that means hands-off. Except now she's all grown up, and her sweet sexiness is exactly what he craves. But just as Hawk allows himself one mind-blowingly intense night with Dawn, he learns that everyone he loves is in danger. Especially her.
And the only way to protect Dawn is to push her away...
Oh, Rebecca Zanetti, you write the most adorable old women who like to meddle in people's business so well.
As you can tell, my favorite part about this book (besides sexy Hawk) were the adorable old ladies who felt like it was their civic duty to get Dawn the man of her dreams, Hawk.

The list of rules for Dawn to follow, which would ultimately solidify Hawk's love for Dawn, were amazing.

The ways that they meddle had me in giggling fits and I kind of wish they were in my life to find me the perfect man. But enough about them…on to the main characters.
Hawk has a dangerous job and because of this he has pushed Dawn away.

He never wants her to be in danger and he doesn't want her to have to deal with him never coming home after a mission if he started up a relationship.

However, he just can't take it any longer and thinking that it would be better if they had one week together than nothing at all.

Dawn disagrees.

She was raised with brothers who taught her how to fight and shoot – surely she can help take down any threat.

Hawk doesn't see it that way; he wants her bubble wrapped and safe from any harmful object or person. Throughout this book long feud about over-bossiness and protectiveness, you will find a book full of meddling, older ladies, multiple heroes, amazing friendships/family, and steamy moments.