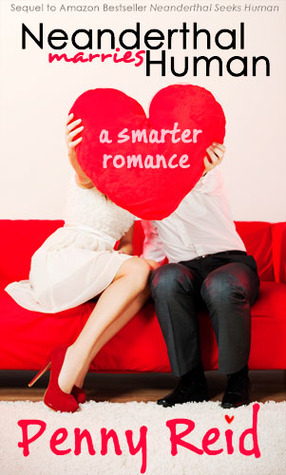 Title: Neanderthal Marries Human
By: Penny Reid
Series: Knitting in the City #1.5
My Copy: Amazon.com
The BookWhisperer's Rating:
There are three things you should know about Quinn Sullivan: 1) He is madly in love with Janie Morris, 2) He's not above playing dirty to get what (or who) he wants, and 3) He doesn't know how to knit.
After just five months of dating Janie, Quinn—former Wendell and unapologetic autocrat—is ready to propose marriage. In fact, he's more than ready. If it were up to Quinn, he would efficiently propose, marry, and beget Janie with child all in the same day—thereby avoiding the drama and angst that accompanies the four stages of pre-matrimony: engagement, meeting the parents, bachelor/bachelorette party, and overblown, superfluous wedding day traditions. But Janie, much to Quinn's dismay, tosses a wrench in his efficacious endeavors and challenges him to prove his devotion by going through the matrimonial motions, no matter how minute and mundane.
Will Quinn last until the wedding day? Or will he yield to his tyrant impulses?
Regardless, one thing is for certain, Quinn Sullivan will have to learn to expect the Spanish Inquisition (i.e. the unexpected) if he plans to have and keep Janie Morris as his wife.
I don't think that there will ever be a Penny Reid book that I will not fall in love with.
Each time I finish one I always think, "This was the best.
The cutest characters, the best love, the best everything," and this book was just that.
This book is a continuation of Neanderthal Seeks Human and our two wonderful characters Janie and Quinn are about to embark on a lifetime with each other, as soon as Quinn pops the question.
But first there are certain hurdles that they must overcome; the question needs to be asked, the family needs to be informed, the wedding needs to be planned, and pasts need to be unveiled and forgiving and while conquering these hurdles, hilarity ensues.
There were many things that I just adored about this book.
Again, the characters Janie and Quinn were amazing.
The supporting characters couldn't get any better and the laughs were unstoppable.
I did feel as if Janie became a little more human in this book.
Instead of constantly spitting out tidbits of knowledge nervously, she tried to hold her tongue (granted, I loved her tidbits of knowledge so I never minded the verbal outbursts.)
I also loved how Reid whipped up their love so perfectly.
Janie made Quinn want to be a better person and Quinn opened Janie's mind to be a little more human-ish.
I also loved that this book was written in dual POV.
Not only did you get to see inside of Janie's crazy mind but also Quinn's and you get to read the love that Quinn has for Janie that may not be verbally exposed.
Example:
"His expression softened and his eyes turned dreamy and adoring as they moved over my features. Then he leaned forward and whispered, 'Whatever you want, Kitten.
Whatever you want is yours.'"
Seriously? How am I ever supposed to find a guy that is ever like Quinn?
I am extremely excited about reading the rest of the series; especially Nico and Elizabeth.
Penny Reid = always brilliant