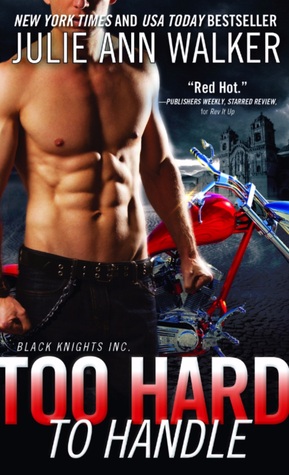 Title: Too Hard To Handle
By: Julie Ann Walker
Series: Black Knights Inc. #8
My Copy: Netgalley.com
The BookWhisperer's Rating:
Dan "The Man" Currington is back in fighting form with a mission that takes him four thousand miles south of BKI headquarters, high in the Andes Mountains of Peru. He's hot on the trail of a rogue CIA agent selling classified government secrets to the highest bidder, when Penni DePaul arrives on the scene. Suddenly the stakes are higher, and keeping Penni safe becomes Dan's number one priority.
And this time she's ready
A lot has changed since former Secret Service Agent Penni DePaul last saw Dan. Now a civilian, she's excited about what the future might hold. But before she can grab onto that future with both hands, she has to tie up some loose ends-namely, Dan Currington, the man she just can't forget. And a secret that's going to change both their lives-if they can stay alive, that is.
I loved the little snippets that we got from the last book "Full Throttle" that involved Dan and Penni and that started to show the slow build of their, (well, the best that we could call it at that moment would be) relationship.

Just starting to get to know each other, Dan and Penni ran into some rough times, and some lusty times, but ultimately parted without saying much to each other.

This book picks up a few months after they last saw each other. Dan hasn't stopped thinking about her and Penni holds a secret.
In true Black Knight fashion, this book was pack with action and sexy times.

Dan and Penni are perfect for each other and they are slowly starting to realize just how perfect they are together.

However, there are a few things that are getting in the way.

First, Dan is gone when Penni stops by the BKI facility, which leads the gang to send Penni down south, and right in the middle of a dangerous mission that Dan is in the midst of working.

Seeing Penni again brings every emotion right back into the forefront but there are a few things that Penni doesn't know about Dan.

Mainly, that he is a widower, making it hard for him to grow close to any woman since he held his murdered wife in his arms outside of the BKI facility.
JAW did set up two upcoming characters, (well, at least I hope they are) Chelsea and Dagan. *And, I hope Ozzie and the reporter – but that is just a wish.* Their story followed the snippets that Dan and Penni's did in the last book.

There are small, intimate moments that you get to see between these two but mostly they just like to bicker and banter at each other.

I can't wait for their story.
BKI is a wonderful series and JAW does a fantastic job brining each character to life and keeping the drama and action at a level that is comparable to the romance.