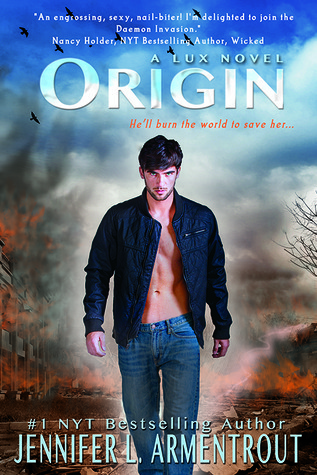 Title: Origin
By: Jennifer L. Armentrout
Series: Lux #4
My Copy: Amazon.com
The BookWhisperer's Rating:
Daemon will do anything to get Katy back.
After the successful but disastrous raid on Mount Weather, he's facing the impossible. Katy is gone. Taken. Everything becomes about finding her. Taking out anyone who stands in his way? Done. Burning down the whole world to save her? Gladly. Exposing his alien race to the world? With pleasure.
All Katy can do is survive.
Surrounded by enemies, the only way she can come out of this is to adapt. After all, there are sides of Daedalus that don't seem entirely crazy, but the group's goals are frightening and the truths they speak even more disturbing. Who are the real bad guys? Daedalus? Mankind? Or the Luxen?
Together, they can face anything.
But the most dangerous foe has been there all along, and when the truths are exposed and the lies come crumbling down, which side will Daemon and Katy be standing on?
And will they even be together?
Lately I have had a not so great time with books.

Out of the vast majority that I have read, I haven't liked them or loved them or they haven't touched my soul in some way.

Yes, there have been some that I liked or loved in the last few handfuls that I have picked up but mostly I have been in a book slump.

Origin brought me out of said book slump.

THIS IS WHY I HEART JENNIFER L ARMENTROUT!!!
It has been…wait, let me check…almost three years since I read the third book in this series. THREE YEARS!

Normally, I feel like I would have to restart the series to get back in and know what has happen so that what is going to happen makes sense.

I did this when all the Harry Potter movies came out – I either reread the books or watched the past movies.

The beauty about this series and its author is that I didn't need to do any of it.

I remembered exactly where the last book ended and every event leading up to that point.

It just shows you how wonderful JLA is…which is super wonderful.
A brilliant fourth book in an even more brilliant series.

I was absolutely captivated the entire time.

Kat and Daemon won my love as the cutest couple the moment they first got to together and they still hold that trophy.

Their love is so pure and magical that I am extremely jealous of this fictional couple.
All of the suspense, drama, action, and unveiling of secrets were out of this world.

My jaw was dropped the entire time from what JLA created and revealed.

My heart also skipped multiple beats during the time when Kat and Daemon had their moments together, even if they were super sweet and PG rated.
The Lux series has fantastic writing by a talented author who weaves her wonderful creations into pure greatness.