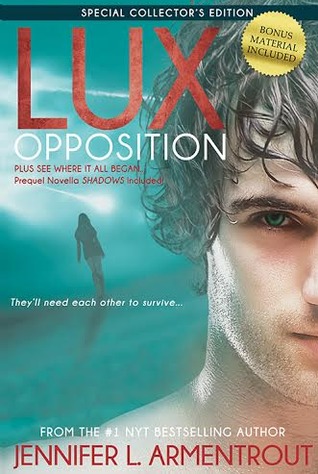 By: Jennifer L. Armentrout
Series: Lux #5
My Copy: Amazon.com
The BookWhisperer's Rating:
Katy knows the world changed the night the Luxen came.
She can't believe Daemon welcomed his race or stood by as his kind threatened to obliterate every last human and hybrid on Earth. But the lines between good and bad have blurred, and love has become an emotion that could destroy her—could destroy them all.
Daemon will do anything to save those he loves, even if it means betrayal.
They must team with an unlikely enemy if there is any chance of surviving the invasion. But when it quickly becomes impossible to tell friend from foe, and the world is crumbling around them, they may lose everything— even what they cherish most—to ensure the survival of their friends…and mankind.
War has come to Earth. And no matter the outcome, the future will never be the same for those left standing.
Well, it is over. A series I started in 2009 has finally had its last page turned and is over. And I will say that I loved every bit of it. Looking back at all my reviews for this series, all ranked 5 stars, have been nothing but praises for the characters, the story, the writing, and the author. JLA is just a magical human being with a super magical ability to write exactly what I want to read even if I don't know that I want to read it.
The fourth book left us with Dee, Dawson, and Daemon leaving the group behind to join the Luxens (NOOOOO, come back guys!) leaving Archer, Luc, Beth, and Kat wondering what the heck is going on. From that moment, the momentum of this book didn't stop. JLA plunges you into a world of chaos that makes you want to flip through the pages as quickly as possible in hopes for some kind of emotional relief.
A lot of things go down in this book. I can't even tell you how surprised I was when I realized all of the revelations, plans, and battles existed in this finale. The only way that I can explain it is to say that it is like you are on this huge roller coaster just traveling up, up, up, up….and you keep traveling – collecting all this information, making all these plans, fighting all these peoples (and aliens) and there is no down time until the very end. I kept thinking that there had to be a sixth book coming out because there was no way that JLA was going to be able to resolve everything, but she does, because she is amazing.
I have loved Kat and Daemon from day one. They are amazing characters and their love is inspiring. And lets not forget Dee and the others that have been present but I also fell for the new characters that recently were added, like Archer.
I have also loved the world that JLA created – Earth being populated with not only humans but hidden aliens, some good and some bad. However, in the end, we all bond together for the right cause – the beauty of life.
There hasn't been a book by JLA that hasn't won my heart and I doubt that there ever will be.