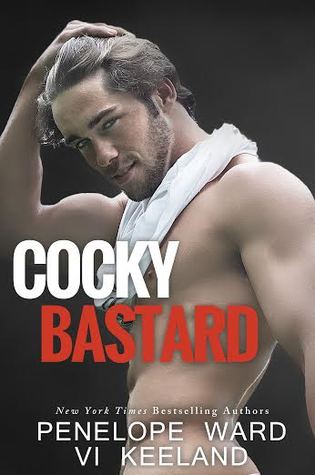 Title: Cocky Bastard
By: Penelope Ward & Vi Keeland
My Copy: Ebook from Publisher
The BookWhisperer's Rating:
He was someone who belonged in my wildest fantasies instead of a rest stop in the middle of Nebraska.
A sexy, cocky, Australian named Chance was the last person I expected to run into on my cross-country drive.
When my car broke down, we made a deal. Next thing I knew, we were traveling together, spending sexually-tense nights in hotels and taking unplanned detours.
My ordinary road trip turned into the adventure of a lifetime. It was all fun and games until things got intense.
I wanted him, but Chance wouldn't make a move. I thought he wanted me too, but something was holding him back.
I wasn't supposed to fall for the cocky bastard, especially when I knew we'd be going our separate ways.
All good things must come to an end, right?
I think I really like the plot line of this book.

Two people, Chance and Aubrey, meet at a rest stop and get off on the wrong foot over a broken bobble-head doll.

And, then get off on a even more wrong foot when Chance's motorcycle dies and Aubrey's car gets a flat tire; leading them to team up for a road trip to California and constantly bickering at each other.

Eight days stuck in a car really lets you get to know someone but not all secrets were revealed.
Cocky Bastard's first half of the book was written through Aubrey's point of view.

You get to know her, what she thinks, what she has been through, and what she is running away from.

And during this first half Aubrey and Chance do the cutest of things throughout this road trip: adopt a weird pet, camp out with said weird pet, and go to Vegas (you guessed it, with weird pet!)

Aubrey's story leads up to a very crucial point and then the story flips to Chance's point of view and then it gets a little deeper than before.
Without giving any spoilers, the second half is Chance groveling at Aubrey's feet.

Granted, he needed to spend some time asking for forgiveness, but I felt as if the entire second half was just that and to me, it was too long of a process.
Along with the second half being strung out, there were times that the story didn't seem to flow well.

There were scenes where minute things were written in detailed form and other scenes, that I would have loved to have had explained more, were glossed over or skipped.
So I am left with the feeling of this book was good but it could have been a lot better. The carefree Chance that was wonderful to read in the first half didn't transfer over to the second half.

It could be because of that one thing (that you will find out when you read this book) but every once and while he would have it, then he would lose it.

And I honestly do not know if I was Chance, and traveling out to CA for the reason that he was, that I would be so carefree.