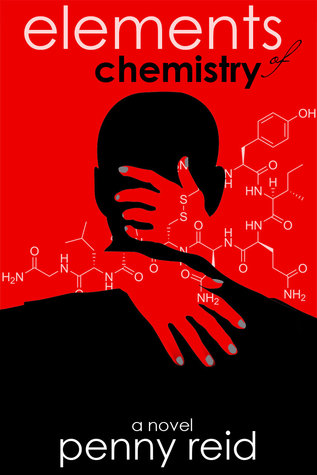 Title: Elements of Chemistry
By: Penny Reid
My Copy: Amazon.com
The BookWhisperer's Rating:
What's the worst that could happen?
Kaitlyn Parker has no problem being the invisible girl, which is why she finds herself hiding in various cabinets and closets all over her college campus. Despite her best efforts, she can't escape the notice of Martin Sandeke—bad boy, jerkface bully, and the universe's hottest, wealthiest, and most unobtainable bachelor—who also happens to be Kaitlyn's chemistry lab partner.
Kaitlyn might be the only girl who isn't interested in exploiting his stunning rower's build, chiseled features, and family's billionaire fortune. Kaitlyn wants Martin for his brain, specifically to tabulate findings of trace elements in surface water.
When Kaitlyn saves Martin from a nefarious plot, Martin uses the opportunity to push Kaitlyn out of her comfort zone: spring break, one week, house parties, bathing suits, and suntan lotion. Can she overcome her aversion to being noticed? Will he be able grow beyond his self-centered nature? Or, despite their obvious chemistry, will Martin be the one to drive Kaitlyn into the science cabinet of obscurity for good?
Ohhhh, Penny Reid, you better watch out because you are quickly becoming one of my favorite authors.

I mean, really, you don't have to watch out.

It's not a bad thing – it is actually a good thing.

It just means that I am going to read all of your books and that you have to continue writing books…for me and others.
There are many kinds of books that I love.

I love books that have a hate/love relationship between the two characters, which we kind of see here.

I love books that have smart characters with witty comebacks, which we see here.

And I love sensible drama, which we get loads of here.

Bonus points if one of the character nerds out and loves Doctor Who, Firefly, LOTR, etc., which we get here.

So basically, this book has it all.

It has two amazing characters that you instantly fall in love with and a beautiful story that holds your attention until the very end.
Parker and Martin have definitely become one of my favorite book couples.

Starting out as just lab partners, things escalate quickly in a week during spring break.

Reid really takes that week of writing and lays out her characters perfectly so you truly get to know them and you are hooked.

Even through the ups and downs of spring break, you just know in your heart that they are meant to be together…and then the week comes to an end…and so does your heart.
There was a moment during this book that I had texted Jackie, "OMG, Penny Reid is killing my soul…but in a good way."

Parker and Martin's story basically can rip a reader apart and slowly stitch that reader back together again with a little pain but a whole lot of love.
I don't think that I can express how wonderful this book was.

It's funny, it's intellectual, it's thought provoking, and Reid produced a five gold star book in my opinion.

The only problem I have now is which book of Reid's am I going to start next.