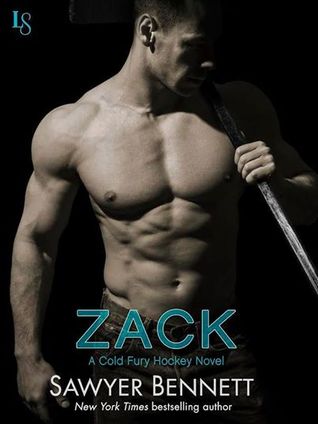 Title: Zack
By: Sawyer Bennett
Series: Cold Fury Hockey #3
My Copy: Netgalley.com
The BookWhisperer's Rating:
Rising star Zack Grantham has been stuck in a downward spiral of grief ever since the car accident that left him a single dad and put his career on hold. Back on the road with the Carolina Cold Fury and still crippled by emotional baggage, he's in need of some serious help with his son. But while the nerdy new nanny wins his son's heart, Zack isn't sure he's ready for a woman's touch—even after getting a glimpse of the killer curves she's hiding under those baggy clothes.
Kate Francis usually keeps men like Zack at a distance. Though his athlete's body is honed to perfection, he refuses to move on with his life—and besides, he's her boss. Still, the sparks between them are undeniable, tempting Kate to turn their professional relationship into a personal one. But before she makes a power play for Zack's wounded heart, Kate will have to open him up again and show him that love is worth the fight.
The fact that Sawyer Bennett made Kate this absolute adorkable person made me so excited to get my hands on this book.

There is always something makes me root for the nerdy underdog in books (it's probably because I am a nerd if we are going to be honest) and Kate was that nerdy underdog.
This whole book was brilliant because Zack captured my heart in the last book and I was so curious to see what was going to happen with him and his story.

Thank you Sawyer for making this next in the series. Back to the brilliant part, it was so emotionally laced of a book.

Something I don't think I was expecting.

I was expecting Zack meeting Kate, realizing that she was adorable, and love, but there was so much more to that then the plot line I made up.

Zack's character truly expressed his emotions about Gina and it was the honest truth, which floored me.

Plus, this wasn't a 'mess with someone emotions because I don't want to hurt their feelings' kind of a book.

Everything was laid out on the table before things got hot and heavy and I appreciate that so that in the future of this book, I know there will be no surprises.
I cherished the snippets of paragraphs that held Kate, Zack, and Ben.

It was almost like they were a family and with Kate's help, Zack was able to feel that again.
I have loved this series from the beginning and I continue to fall in love with it every book.

I can't wait for Ryker.