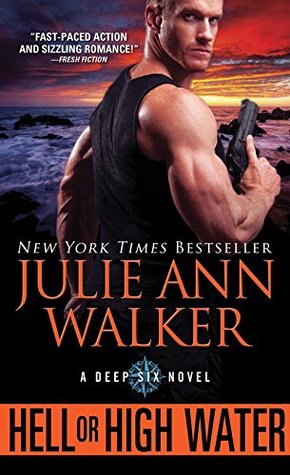 Title: Hell or High Water
By: Julie Ann Walker
Series: Deep Six #1
My Copy: Netgalley.com
The BookWhisperer's Rating:
In a world on the brink...
Six men. One sunken Spanish galleon. Millions in gold and silver coins lying on the ocean floor. And a past that refuses to let the guys of Deep Six Salvage forget the Navy SEAL motto: the only easy day was yesterday...
There's more than one kind of treasure...
The nation's security has always been CIA agent Olivia Mortier's top priority. But a mission-gone-wrong has begun to make her wonder if there's more to life than risking hers.
And more than one secret at the bottom of the sea...
Only two things could make Leo Anderson abandon his hunt for the legendary lost ship, La Santa Christina, and return to the world of weapons and warfare he swore to leave behind: a capsule of enriched uranium, lost on the ocean floor, and a plea for assistance from the one woman he can't seem to forget…
When Julie Ann Walker's books become available, I get so excited.

It's because I know what a wonderful ride she is about to take me on.

There is always action – that beat'em up, blow'em up kind of fun that keeps her books lively.

There are always alpha men – these men will do anything to serve and protect their country and women.

And I cannot forget about the strong women that she pairs with these men.

These three reasons are why I will always read and love JAW's books.
From the beginning, JAW sets up a wonderful crew of men that I just know that I am going to love.

Each one has a wonderful personality so uniquely theirs that it is going to be great getting to read more about them throughout the series - Leo, was just that.

His character was strong and fierce – ready to lead his men, ready to fight for his country, and ready to everything for Olivia Mortier.

*sigh*
Olivia is the one that Leo thought got away. Leo and his ex-military men are retired, living on an island and hunting for lost treasure (which sounds like so much fun!), when Olivia comes and asks for their help.

Once the men agree to assist, the action starts (and we are talking about different kinds of action – if you know what I mean.)
JAW has also set up a budding relationship between Bran and Maddy that I am anxiously waiting for their story.

Please say that their book will be out soon.