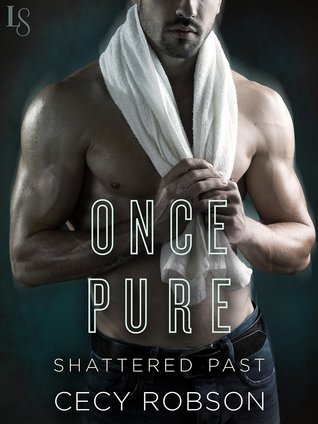 Title: Once Pure
By: Cecy Robson
Series: Shattered Past #3
My Copy: Netgalley.com
The BookWhisperer's Rating:
Sofia Tres Santos remembers a time before her life went sour, before her innocence was ripped away, before she began punishing herself with risky behaviors and unworthy men. Now, at twenty, she just hopes she's ready to rebuild some of what she lost. One way or another, it always comes back to her childhood friend and longtime crush, Killian O'Brien.
As strong as Killian is, Sofia has always been his one weakness. He knows Sofia has suffered and wants to ensure she's never hurt again—not like before, and definitely not under his watch. When Sofia agrees to work at his mixed martial arts gym, Killian seizes the opportunity to help and protect the sweet girl he's always cared for. And yet, as he trains Sofia to defend herself using his hard-hitting MMA techniques, he's drawn to the vulnerable beauty in ways he never expected.
As Sofia grows stronger, she also grows brave enough to open herself up to love. And along the way, she challenges everything Killian believes to be true, showing him that no matter how much he dominates in the ring, the real battle is fought in the heart.
I have been waiting for this couples story and I was not disappointed!

Ever since Killian was introduced in the first book and Robson gave us the inkling that he possibly liked Sofia, I knew this was going to be my favorite book out of the series.
Killian was the best.

I loved how gentle, patient, and protective he was with Sofia while she was working with him.

It was like they had this wonderful fairy-tale middle while getting to know each other more (bumps, there are always speed bumps in a relationship.)

During this time, Sofia shows Killian that he is worth loving; something that you learn he never has had in a relationship (or the fact that he hasn't had a relationship at all) and Killian slowly builds Sofia's confidence by teaching her how to defend herself.

Throughout the book, you see that she is no longer a timid girl the last two books portrayed her as but that she has grown into a woman that roundhouse kick anyone in face if needed.
There is a lot that you learn about these to characters and it is so worth the emotional pain that Robson puts you through to get to know them.