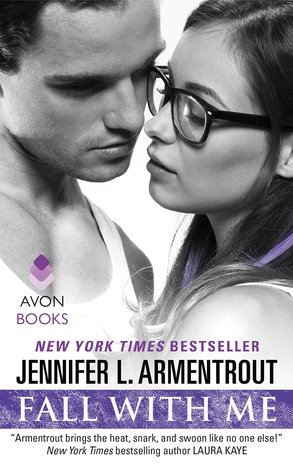 Title: Fall with Me
By: Jennifer L. Armentrout
Series: Wait for You #4
My Copy: Amazon.com
The BookWhisperer's Rating:
Eleven months ago, bartender and weird-shirt-wearing extraordinaire Roxy and Officer Reece Anders had a one night stand. Well, kind of. She's been in love with him since she was fifteen, and he wishes that night they shared never happened. She's sworn him off forever, but the past and future collide, forcing her to rely on the one man who broke her heart not once, but twice.
Her best friend since birth has been in a long-term care facility since he became a victim of a hate crime years ago, and the person who put him in there is out of prison and wanting to make amends with him and Roxy. She's not sure she has room for forgiveness in her and when she begins to receive frightening messages and is on the receiving end of escalating violence, she thinks she knows who is to blame. The man who already destroyed one life already.
But Reece isn't convinced. The threats are too personal, and even if Roxy doesn't believe him, he's not willing to let anyone hurt her. Including himself. He's already messed up more than once when it comes to Roxy and he's not going to let history repeat itself.
I have been waiting, not so patiently, for this book to come out.

I wanted it from the moment I finished Stay with Me and realized that this book was going to be about Roxy and Reece.

Yes, Roxy and Reece!!!

The two people who I feel in love with and wanted, more than anything, to know why Roxy hated Reece with the intensity of a thousand suns.

You know when you have that kind of hatred that the chemistry between the two characters is going to be off the charts. And it was!
First off and a side note, I would like to say that I want to own every shirt that Roxy wore in the last two books.
Roxy and Reece.

Roxy and Reece.

I so loved them apart and together and they were kind of a mystery in the last book.

All we knew was that Roxy wanted nothing to do with Reece after one night and that is basically it.

This book breaks everything down.

It gives you such an open tour of both Roxy and Reece's past and what has brought all this animosity to an old friendship.
I don't want to say much because I don't want to spoil anything but I will say that there is more to Roxy and Reece than I expected.

A dark past, hardcore grudges, and violence darkens this book's doorsteps but with this bad comes a lot of good.

Roxy is stuck in the past and she is letting it define her future. Sexy Reece is just the strong enough guy to help her carry this load.

But it isn't easy as it should be.

There is a lot more going on than what I was expecting to unfold.

So with that, I leave you to read this wonderful book and crush hard on Reece like I did.

Oh, and this book is my favorite in the series so far.