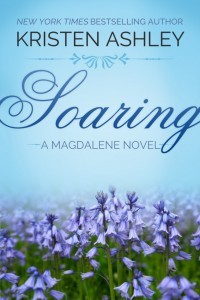 Title: Soaring
By: Kristen Ashley
Series: Magdalene #2
My Copy: Amazon.com
Book Whisperer's Rating:
American heiress Amelia Hathaway needs to start anew.
Her husband cheated on her, and when everything she wanted in life slipped through her fingers, she fell apart. When she did, she took another heart wrenching hit as she lost the respect of her children.
When her ex took her family from California to live in the small town of Magdalene in Maine, Amelia decided it was time to sort herself out. In order to do that and win her children back, she moves to Cliff Blue, an architectural masterpiece on the rocky coast of Magdalene.
Her boxes aren't even unpacked when she meets Mickey Donovan, a man who lives across the street, a man so beautiful Amelia takes one look at Mickey and knows she wants everything from him.
The problem is, she finds out swiftly that he's friendly, he's kind, but he doesn't want everything back.
Amelia struggles to right past wrongs in her life at the same time find out who she wants to be. She also struggles with her attraction to the handsome firefighter who lives across the street.
But Amelia will face a surprise when her friendly neighbor becomes not-so-friendly. As Amelia and Mickey go head to head, Amelia must focus on winning back the hearts of her children.
She soon discovers she also must focus on winning the heart of a handsome firefighter who understands down to his soul the beautiful heiress who lives across the street is used to a life he cannot provide.
I thought before I started writing this review that I would do a little experiment and count how many KA books I have read in the last few years and the number is…..33.

Thirty-three books by KA have swooped in and stole my heart.

Every one of them I have loved.

Every one of them has been a ball of fantastic rolled up in absolute wonderfulness.
Let's just say that Soaring fell into the category of the last thirty-three books of KA's that I have read.

It was amazing.

It was actually beyond amazing because Amelia and Mickey were the best of everything together.

When Amelia's ex-husband comes and stirs up trouble within the first few days of her moving into the new house, Mickey is there and steps in…making him the best neighbor (and super sexy!)

The moment they got together, they were the best lovers and this doesn't even begin to describe them accurately.

They topped every emotion and level together and went beyond.
What I loved the most about these two characters was that the relationship was a slow build.

It wasn't like those books where the instant they saw each other it become love.

Amelia and Mickey's paths crossed multiple times, and in many different emotions, before they realized what these feelings were.

It was a beautiful build of a relationship and it burn of it was spellbinding.