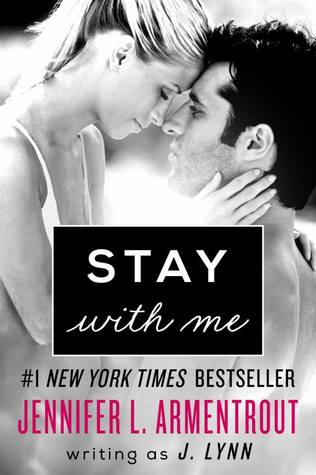 Title: Stay with Me
By: Jennifer L. Armentrout
Series: Wait for You #3
My Copy: Amazon.com
The BookWhisperer's Rating:
At 21, Calla hasn't done a lot of things. She's never been kissed, never seen the ocean, never gone to an amusement park. But growing up, she witnessed some things no child ever should. She still carries the physical and emotional scars of living with a strung-out mother, Mona—secrets she keeps from everyone, including her close circle of college friends.
But the safe cocoon Calla has carefully built is shattered when she discovers her mom has stolen her college money and run up a huge credit card debt in her name. Now, Calla has to go back to the small town she thought she'd left behind and clean up her mom's mess again. Of course, when she arrives at her mother's bar, Mona is nowhere to be found. Instead, six feet of hotness named Jackson James is pouring drinks and keeping the place humming.
Sexy and intense, Jax is in Calla's business from the moment they meet, giving her a job and helping her search for Mona. And the way he looks at her makes it clear he wants to get horizontal . . . and maybe something more. Before Calla can let him get close, though, she's got to deal with the pain of the past—and some very bad guys out to mess her up if she doesn't give them her mom.
This book only solidifies my love for Jennifer L. Armentrout and her writing.

She had me hooked the first few page – Calla's life drastically changes within the first chapter, leading her to go back home in hopes to find her mother.

What I loved was that this homecoming throws Calla in the life of Jax, a bartender at Mona's bar.

Within an instance, both were drawn to each other with hot sparks flying off the page.
And dang, Armentrout brought the action in this one.

Between the connection these two characters had and danger lurking about, there was not a dull page within this book.

I personally loved Jax and his uber sexiness.

He was a pure alpha male rivaling one of Kristen Ashley's.
What filled my heart to the brim was the face that while Calla has lived a hard life, so has Jax.

He has just as many scars as she has and it makes their togetherness kind of poetic.
Spoilers - so stop reading if you don't want to know!
I couldn't wrap my head around the fact that Calla's mother was allowed to do what she got away with.

I mean, even at the very end of the book what transpires between them doesn't settle well with me.

If Calla's mother, Mona, sobered up enough to visit Calla at college and just sit and watch her interact then why in the world would she put Calla in any kind of danger, let her be hurt, and then just leave?

This and the way that Jax picked up and after a fight and never allowing Calla out of his sight this entire book and then Calla is just okay with what happens when he returns.

These two things are the only things that made me question the story and made me not give it a 5 star rating.