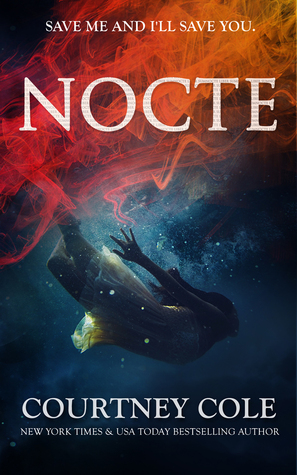 Title: Nocte
By: Courtney Cole
My Copy: Amazon.com
The BookWhisperer's Rating:
My name is Calla Price. I'm eighteen years old, and I'm one half of a whole. My other half-- my twin brother, my Finn-- is crazy. I love him. More than life, more than anything. And even though I'm terrified he'll suck me down with him, no one can save him but me. I'm doing all I can to stay afloat in a sea of insanity, but I'm drowning more and more each day. So I reach out for a lifeline. Dare DuBray. He's my savior and my anti-Christ. His arms are where I feel safe, where I'm afraid, where I belong, where I'm lost. He will heal me, break me, love me and hate me. He has the power to destroy me. Maybe that's ok. Because I can't seem to save Finn and love Dare without everyone getting hurt. Why? Because of a secret. A secret I'm so busy trying to figure out, that I never see it coming. You won't either.
I can't even begin to tell you how much I loved this book. This book opened me up, ripped me apart, confused the heck out of me, and then blew my mind.

It was nothing like I was expecting and that is what made me love it so.
I found myself getting sucked into Calla's world.

Immediately her world breaks apart and you just sit there, reading how she struggles to pick up all the pieces and keep the pile in her arms without dropping them (which is quite impossible given the load she bears.)
I don't want to say too much because I don't want to spoil the reading pleasure that I had but I really do encourage you to read this book.

I promise that you will not be disappointed.
I will say that I am so excited that I read this book so close to the release day to the second book so I don't have to wait too long to find out what else is going to happen and you know it is going to be crazy.

Less than 24 hours until I have access to it!!!