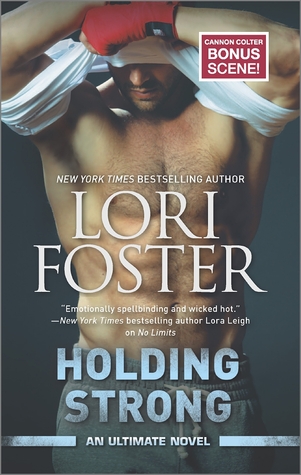 Title: Holding Strong
By: Lori Foster
Series: Ultimate #2
My Copy: Ebook from Netgalley
The BookWhisperer's Rating:
An up-and-coming MMA fighter wants more than just one night from a woman fleeing her past in New York Times bestselling author Lori Foster's irresistible new novel
Heavyweight fighter Denver Lewis plays real nice, but he doesn't share. That's why he's been avoiding top-notch flirt Cherry Peyton. But a man can only resist those lush curves for so long. Their encounter surpasses all his fantasies, bringing out protective urges that Cherry's about to need more than she knows…
Denver's combination of pure muscle and unexpected tenderness has been driving Cherry wild. Yet no sooner does she get what she's been craving than old troubles show up on her doorstep. And this time, Cherry can't hide behind a carefree facade. Because the man by her side is one who'll fight like hell to keep her safe…if only she'll trust him enough to let him…
I really enjoyed the first two books in this series, as well as the main characters but for some reason, I couldn't get into Denver and Cherry's life.
From the beginning, there was just something that didn't click with me regarding them – their like for each other, their passion for each other, and just them.

Which is really hard for me because I really like this series.
I liked that there was some deeper secrets in this book.

Both Denver and Cherry had some personal issues that they had to sort out and deal with before they could really be happy with each other.

It is always wonderful to see how the author takes on such a struggle between two characters that have the weight of the world on them.
What I did keep me pulled in was all the upcoming series couples that made their appearances and started seeing each other in a new light.

Armie and Rissy…can't wait! Stack and Vanity….their story is next!

Foster has set up some great couples in the next few books.