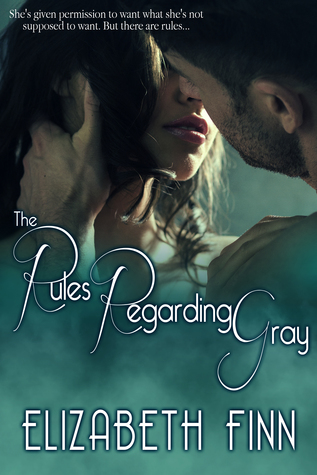 Title: The Rules Regarding Gray
By: Elizabeth Finn
My Copy: Ebook from Author
The BookWhisperer's Rating:
Gracelynn is drowning in an existence that fails to fulfill her. A ballerina by trade, she's devoted her life to the stage, sacrificing adventure for discipline. When her boyfriend gives her permission to want what she's not supposed to want, can she walk away? Or will she leap?
Jasper isn't a man with many boundaries, and "sharing" a woman with his best friend is hardly a new endeavor. But the moment he meets Gracelynn he realizes she's different. She leaves him feeling alive in a way he's not used to, and for the first time in his life, he understands what it means to be wanted… Cherished… And he needs more…
But there are rules—rules that forbid Jasper from truly having her. As forbidden desire spirals out of control, Jasper has to decide if he's willing to fight for something that doesn't truly belong to him. His best friend doesn't deserve her, but is Jasper strong enough to believe he does?
Yes, this book was absolutely AMAZING!

There was never a moment that I was not fully enthralled by the characters that Finn spun for us.

I experienced every emotion known to man in this one book and was left thinking about it for days after I finished.
Ian (the ultimate jerk-face) is dating the sweet, deserves-a-better-boyfriend Gray.

Their relationship is just, well, blah.

Their emotional connection between each is about the size of a teaspoon and Ian has the bright idea that Jasper should join them but with strict rules.

These rules make the story, they make the tension, they cause the lust, and they build the characters.
Jasper cannot touch her, he can't kiss her, and he can't have her the way he wants.

But while he cannot connect with Gray on the physical level that he wishes he could, Jasper can connect with her on the emotional level and Ian cannot.

This connection builds this amazing start to a bond that is untouchable.

Slowly feeling start to appear but Gray is Ian's girlfriend and Jasper is Ian's best friend, marking these feelings as forbidden.
I loved the bluntness that all three characters had.

There was no miscommunication in this book, which made me so happy.

Yes, they were confused about their feelings but instead of staying silent about them because it was deemed wrong, they forwardly spoke about them.

They were open and this made the characters genuine to me.
Also, the intimate scenes were scorching hot.

Not only were they blunt about their feelings involving each other but also these characters were blunt about what they were going to do in the bedroom.

I found my jaw open most of the time.
Jasper just found himself on my book boyfriend list.

Congrats Jasper!