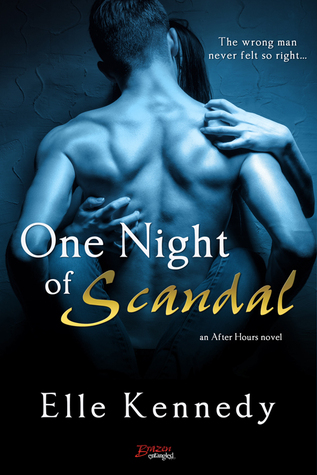 Title: One Night of Scandal
By: Elle Kennedy
Series: After Hours #2
My Copy: Ebook from Publisher
The BookWhisperer's Rating:
The wrong man never felt so right...
Ex-fighter Reed Miller has been secretly lusting over his best friend's girl for months, but he refuses to jeopardize a friendship over a woman—especially one who doesn't like him all that much. Now that Darcy's on the market again, it's even more imperative to stick to his strict hands-off policy. But the sizzling attraction between them is too powerful to ignore, and once he's had a taste of her…all bets are off.
Darcy Grant is tired of walking the straight and narrow path. She's on the hunt for passion, and there's no denying Reed is just the man to give it to her. Although she has no interest in dating a bad boy, and certainly not her ex's best friend, it's impossible not to melt beneath Reed's skillful touch. Now it's just a matter of setting a few ground rules—and hoping her rule-breaking, sweet-talking bad boy agrees to follow them. But if she lets Reed into her bed, does she stand a chance of keeping him out of her heart?
This is the reason why I love Elle Kennedy…this book right here.
This is a perfect kind of steamy book that will only take a few hours to read if you are in the mood for a sexy man that grows as a person and the fantastic woman that helps him, unbeknownst to her.
Reed has always been a player and deep down inside has always wanted his best friend's girl Darcy.

To keep himself from falling for her harder, he has always acted nonchalant towards her making Darcy feel as if Reed hated her.

This was a perfect plot to start out this forbidden romance in my eyes.

He constantly pushes her away and now that Darcy is not longer dating AJ, Reed's best friend, she feels as if she can confront him on his rude behavior and thus starts the passion of their romance.
Reed and Darcy couldn't be any more perfect for each other.

Both brought out the best sides of each other - a more responsible side for Reed and a more passionate side for Darcy.

Their relationship was just too adorable how they constantly bickered at each other and then slowly they started to open up and learn more about each other until it was clear that there was true love hiding about.
Can't wait for more in this series…