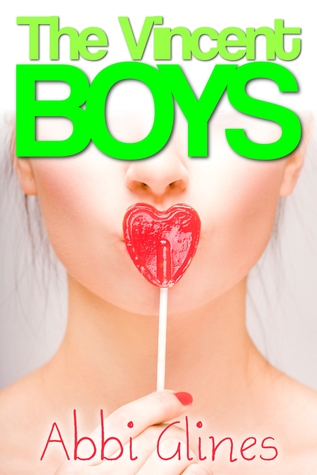 Title: The Vincent Boys
By: Abbi Glines
Series: The Vincent Boys #1
My Copy: Ebook for Review
BookWhisperer Rating:
Ashton is getting tired of being good, of impressing her parents and playing ideal girlfriend to Sawyer Vincent. Sawyer is perfect, a regular Prince Charming, but when he leaves town for the summer, it's his cousin Beau who catches Ashton's eye. Beau is the sexiest guy she's ever seen, and even though he's dangerous, Ashton is drawn to him.
Beau loves his cousin like a brother, so the last thing he wants to do is make a move on Sawyer's girl. Ashton is off-limits, absolutely. That's why he does his best to keep his distance, even though he's been in love with her forever. When Ashton wants to rekindle their childhood friendship in Sawyer's absence, Beau knows he should say no.
Ashton and Beau don't want to hurt Sawyer. But the more they try to stay away from each other, the more intense their urges become. It's getting way too hard to resist....
OMG! How I love these young adult novels. While I would recommend this for mature YA readers due to it content, it still touches sexual nature with pushing the limits. I believe it is the innocence that proves to be my undoing. Talent is evident when an author creates a story that can cause such realistic feelings such as the butterflies and nervous energy in this story. The emotional build up of these novels where actions really tell the story is awe inspiring. With so many erotica and adult novels dominating the book media at the moment I feel that these books are easily overlooked. As an avid reader I forget at moments how incredibly creative these authors are, and just what a thrilling ride they offer. Abbi Glines is an incredible author that knows how to build an intense and mesmerizing love story. The ability to create something so honest and overpowering is amazing. The Vincent Boys is a love triangle that will blow readers away. This emotional roller coaster will have you sympathizing with the enemy, and shunning the victim. The lines will be blurred, and reader will anxiously speed through the pages to see their is a possibility for a happy ending. This is a story of truth and love, and it is innocent beautiful. There is just not enough or appropriate words to express my love this story. I know there is more to come, and can not wait to see what the future holds for this trio.