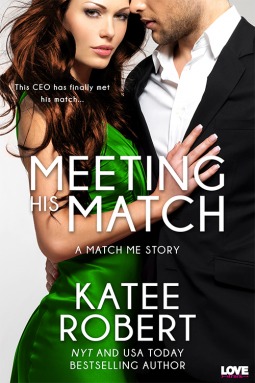 Title: Meeting His Match
By: Katee Robert
Series: Match #1
My Copy: Ebook from Publisher
Book Whisperer's Rating:
When New York matchmaker Addison St. Claire is tasked with matching her best friend's new brother-in-law, she almost refuses. But the sexy southern CEO turns out to be a challenge she can't resist, because if anyone needs to meet his soul mate, it's

this

man. And if matching him with someone else removes the temptation of being near him? Even better.
The last thing Caine McNeill needs is a matchmaker—especially a gorgeous redhead who spouts nonsense about soul mates, critiques what he drives and how he dresses, buys him a

dog

, and pesters him about a million little things he couldn't care less about. It's a crying shame he has to keep his hands off because chemistry like what's flaring between them ought to be explored. Thoroughly.
And so the battle begins. Addison is determined to stick to her plan of setting him up on dates with other women, and Caine is equally determined to ignore these women and seduce

her.
A spin-off of the series "Wedding Dare" seemed right up my ally.

If you read the series, you might remember Brock and Regan (Regan was terrified of squirrels) and this story introduces us to Brock's brother Caine and Regan's friend Addison.
This story was a cute, quick read.

Addison is a matchmaker and gets sent down to Tennessee (by Regan) to set up Caine because Caine is a workaholic.

Their first meeting doesn't go well, in fact most of their meetings do not go well until Caine starts getting used to Addison living in his house (which I found a little odd.)

However, this closeness allows the other to see who they truly are as a person and it sets them up for a passionate ride.
But Addison only thinks that it can be just a passionate ride until she finds him a soul mate.

She believes that you can only have one soul mate and she has already had hers but Caine begs to differ.