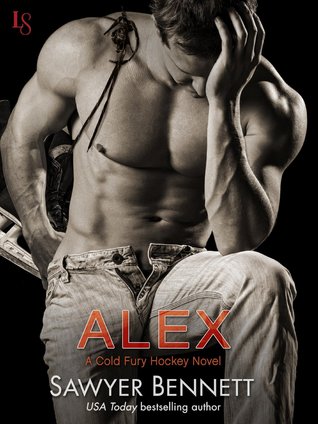 Title: Alex
By: Sawyer Bennett
Series: Cold Fury Hockey #1
My Copy: Netgalley.com
BookWhisperer's Rating:
Hockey star Alexander Crossman has a reputation as a cold-hearted player on and off the rink. Pushed into the sport by an alcoholic father, Alex isn't afraid to give fans the proverbial middle finger, relishing his role as the MVP they love to hate. Management, however, isn't so amused. Now Alex has a choice: fix his public image through community service or ride the bench. But Alex refuses to be molded into the Carolina Cold Fury poster boy . . . not even by a tempting redhead with killer curves.
As a social worker, Sutton Price is accustomed to difficult people—like Alex, who's been assigned to help her create a drug-abuse awareness program for at-risk youth as part of the team's effort to clean up his image. What she doesn't expect is the arrogant smirk from his perfect lips to stir her most heated fantasies. But Sutton isn't one to cross professional boundaries—and besides, Alex doesn't do relationships . . . or does he? The more she sees behind Alex's bad-boy façade, the more Sutton craves the man she uncovers.
So good!

I can't believe how addicted I became to this book within a matter of just pages into it.

Alex is the biggest jerk in the beginning and I thought that there was no way that I was going to like him at all in this book but Bennett turned it around.

When Alex meets up with Sutton, there was just something about them together that makes this world spins.

I couldn't tear myself away from this book.
It was great to see the character development in this book for Alex, Sutton, and other secondary characters.

It was also great to see how much these two characters needed each other; I mean they are perfect together.

But I will say that while I was reading, I was always a feared that Alex was going to do something and revert back to his jerky side.

Each page turn, I cringed because I was just waiting for the other show to drop.
And this is a series!

Woo hoo! I can't wait to read more!