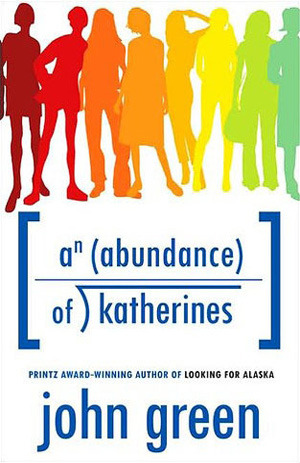 Title: An Abundance of Katherines
By: John Green
My Copy: Borrowed the physical book from a friend (that's right, we are going old school)
BookWhisperer's Rating:
Katherine V thought boys were gross
Katherine X just wanted to be friends
Katherine XVIII dumped him in an e-mail
When it comes to relationships, Colin Singleton's type happens to be girls named Katherine. And when it comes to girls named Katherine, Colin is always getting dumped. Nineteen times, to be exact.
On a road trip miles from home, this anagram-happy, washed-up child prodigy has ten thousand dollars in his pocket, a bloodthirsty feral hog on his trail, and an overweight, Judge Judy-loving best friend riding shotgun--but no Katherines. Colin is on a mission to prove The Theorem of Underlying Katherine Predictability, which he hopes will predict the future of any relationship, avenge Dumpees everywhere, and finally win him the girl. Love, friendship, and a dead Austro-Hungarian archduke add up to surprising and heart-changing conclusions in this ingeniously layered comic novel about reinventing oneself.
First off, let me express my love for John Green; everything this man does makes me happy.

All of Vlogbrothers videos with his brother, Hank Green, are inspirational.

Every Mental Floss video is enlightening. And the collections of Crash Course videos are like mental crack to my brain.

If you haven't check any of these out, you really should.

Seriously, you really should.
The best thing about AAOK is that Colin, Hassan, and Lindsey (the three main characters) are truly your average young adults.

Nothing is monumentally wonderful about them (they aren't CEOs, or famous MMA fighters, or rockstar gods like most book characters), they are just normal characters.

But John has written them with an amazing flare that you can't help but love them almost instantly.
Colin, a child prodigy and a child prodigy that has amounted to nothing, gets dumped by Katherine XIX and takes his best friend, Hassan, on a road trip to help take the pain from being dumped off of his mind and to ponder why he hasn't changed the world yet. While on this road trip, they meet Lindsey, a young woman who has no interest in making any significant change to the world.

She was born in Gunshot, Tennessee and that is where she will die, so she says.

But its what happens when you meet any new person that happens to Colin, a little bit of them rubs off on you and a little bit of you rubs off on them.

After months of painfully trying work out his relationship theorem, Colin finds his 'Eureka' moment and that wouldn't have been possible without Lindsey.

It just goes to show you how enlightening some people are in your life.
So, with all that said, I really enjoyed this book and look forward to reading the others.
DFTBA (Don't forget to be awesome) as John Green and Hank Green would say.