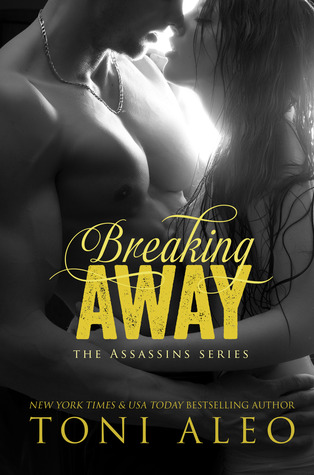 Title: Breaking Away
By: Toni Aleo
Series: The Assassins Series #5
My Copy: Amazon.com
BookWhisperer's Rating:
BREAKING AWAY is a story of loss, healing, and love… where unexpected turns and heartache lead to passion.
To Nashville Assassins' leading scoring center Phillip Anderson, playing hockey has always been easy… as natural as breathing. His life is no different. That's until his world is turned upside down by the death of his sister. While mourning his loss, Phillip has to find a way to make his very angry sixteen-year-old niece, Claire, happy. Now, as her guardian, he discovers the only thing that seems to heal her lonely heart is dance class. But what he didn't count on was the attraction he'd feel towards her drop-dead sexy dance teacher.
For Reese Allen, dancing has always been part of her soul. After having her heart broken in New York, she comes home with the determination to make her dance studio one of the best in Tennessee and succeeds. When she sees Claire dance for the first time, she knows the girl is bound for greatness and takes the troubled teen under her wing. Using dance as therapy, she suddenly finds herself bound to the young woman… and her hot-as-sin uncle.
However, Phillip and Reese are happy in their single lives. It's simple. They do what they want, who they want, and how they want, but from the moment they meet, the attraction is undeniable. Soon, they are more than willing to spend just one night tangled in the sheets. But, one night turns into two, and two turns into three, until they find themselves in a repeated dance of "One Last Time" that has the potential to be something more… if only Reese and Claire allow it.
Can Phillip find a way to thaw the hearts of both the women in his life, or will he be forever trying to break them away from their pasts?
I just can't get enough of this series!

It's like a little slice of happiness every time a new book comes out.

Each story from this series has been wonderful and Breaking Away was exactly that, wonderful.
Phillip is such an amazing character.

In the first few chapters, you find him searching for his niece, Claire, who has basically ran away and he makes the decision that he will now take full responsibility for raising her.

But raising her isn't as easy as he hoped it would be and has to rely on one of Reese's sisters to watch her while he is away at his games.

This gives Reese a chance to meet Claire and realizes that she is a fantastic dancer and since Reese owns a dance studio, there couldn't be a better pairing in friendship between Reese and Claire.

However, friendship is not what Phillip wants from Reese once he finally gets to know her.

He wants so much more than Reese is willing to give.
This story isn't all about Phillip and Reese and how specular they are together, even when Reese won't admit it; this story has more behind it than lust and love.

As a reader, you get to read about the hell-like childhood that Phillip was raised in and what Claire suffered through while growing up under her mother's house.

You also get to see a glimpse of why Reese is so adamant to stay just friends with benefits over starting a relationship with Phillip.
If you have enjoyed the other books in this series, I have no doubt that you will enjoy this one as well.