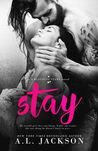 Stay
by
A.L. Jackson
My rating:
5 of 5 stars
Summary:
I grow to love the boys who make up Sunder and the women they love more and more with each member's personal story. But I have a special place in my heart for Ash and Willow and simply devoured this book and was left with a happy smile on my face and a sigh in my heart. AL Jackson at her swoony, sexy best." Mia Sheridan, NYT Bestselling Author
"Captivating. Sexy. And in true AL Jackson style, beautifully devastating. This is hands down her best work to date, and the best thing I've read all year." ~Molly McAdams, NYT Bestselling Author
"You don't have to look hard to see the beauty that bleeds into AL Jackson's words, so wondrous and so WOW. Every word that this author writes is full of feels. Every word is mesmerizing and meaningful. Every word means everything. Every word IS EVERYTHING. Stay is the newest roller coaster of a rock star romance from A.L. Jackson's Bleeding Stars series that is pure beauty in words that break, bind, and make your heart bleed.
STAY SLAYED MY SOUL."
This is my favorite!!!! Ash is by far my favorite character in Sunder. I love his energetic and witty self. I just couldn't wait to get to this book. Finding him getting his butt kicked immediately broke my heart. I was screaming inside for him to get up and "kick some a**", but I guess if he had listened to me then he wouldn't have needed Willow. The two of these are amazing characters. Individually these would have been characters to grab my attention, but once they feel together it was something awe-inspiring. Of course to continue the trend we have two characters that have a history of scars, but at least Willow was the change in the scenery. She seemed to have it together and found a way to live with her sorrow. Ash describes it perfectly when he talks about her light because this character truly depicted just that. That does not mean that she will not falter, but that she knows life it rough, and she will find a way through. Ash, on the other hand, was unfolded in a much different light. Really digging into his character I just fell in love with him more. All of the scars and bruises just made me love him that much more, and hope above all hopes that he would find a piece of happiness. That is exactly what he found, and it made my heart soar. Altogether this was one of my favorites in the series and uncovered a bit of the mystery of Zee making me really anxious for the last book in this series.
~BookWhisperer Reviewer Jax~
View all my reviews