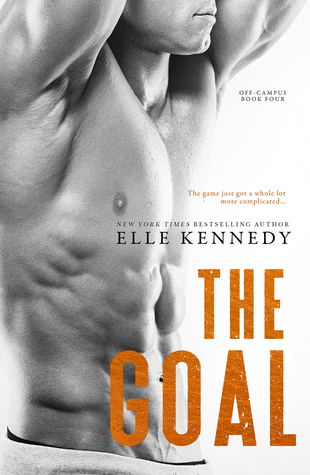 Title: The Goal
By: Elle Kennedy
Series: Off-Campus #4
My Copy: Amazon.com
The BookWhisperer's Rating:
She's good at achieving her goals…
College senior Sabrina James has her whole future planned out: graduate from college, kick butt in law school, and land a high-paying job at a cutthroat firm. Her path to escaping her shameful past certainly doesn't include a gorgeous hockey player who believes in love at first sight. One night of sizzling heat and surprising tenderness is all she's willing to give John Tucker, but sometimes, one night is all it takes for your entire life to change.
But the game just got a whole lot more complicated
Tucker believes being a team player is as important as being the star. On the ice, he's fine staying out of the spotlight, but when it comes to becoming a daddy at the age of twenty-two, he refuses to be a bench warmer. It doesn't hurt that the soon-to-be mother of his child is beautiful, whip-smart, and keeps him on his toes. The problem is, Sabrina's heart is locked up tight, and the fiery brunette is too stubborn to accept his help. If he wants a life with the woman of his dreams, he'll have to convince her that some goals can only be made with an assist.
We are back on the ice and in the lives of our favorite men who rule the puck.

Kennedy brings us another satisfying book in the Off-Campus series with one of your soon to be favorite men Tucker.
Tucker….yes, let's get married.

I mean I know you aren't real but I can still believe that we could have true love in a fictional world.
If there is anyone to write the best men in a book, it is Elle Kennedy.

Every guy seems to have a special quality about him that makes my heart pitter-patter and Tucker is no different.

Raised as a Southern man, he knows how to treat a woman and his eye falls on Sabrina.

Now, I'm going to tell the truth here and say that I wasn't a big fan of Sabrina…at all.

I think it might be the fact that she was just too headstrong on doing things herself, cold, and closed off, and while I get it was because of her home life, I still felt as if she could have leaned on Tucker a little more.

He was solid as a rock throughout the entire book while to me, Sabrina wavered a lot and couldn't see what was right in front of her.

I found myself wanting to shake some sense into her so that happiness could pursue and I could relish in it all.

How could a girl not experience Tucker and walk away?!

Not I, not I!
Back to Tucker, yeah, he is more than perfect and if you want to read about a sweet, thoughtful, loyal, and dirty guy, he's the one you want to pick up.
Another wonderful addition to a brilliant series and I can't wait to read more and especially if it is about Fitzy.