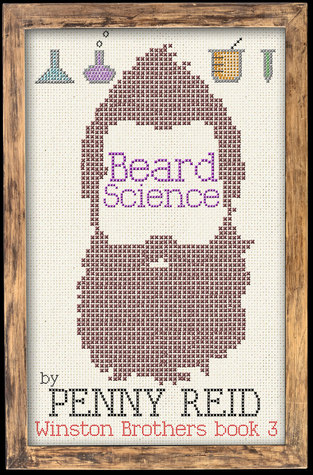 Title: Beard Science
By: Penny Reid
Series: Winston Brothers #3
My Copy: Ebook from Author
The BookWhisperer's Rating:
Make a deal with the devil and you might get what you want, but will it be what you need?
Jennifer Sylvester wants one thing, and that one thing is NOT to be Tennessee's reigning Banana Cake Queen. Ever the perpetual good girl and obedient daughter, Jennifer is buckling under the weight of her social media celebrity, her mother's ambitions, and her father's puritanical mandates. Jennifer is officially desperate.
And desperate times call for Cletus Winston.
Cletus Winston is a puzzle wrapped in a mystery covered in conundrum sauce, and now he's in a pickle. Despite being convinced of his own omniscience, extortion by the exalted Banana Cake Queen of Green Valley has taken him completely by surprise. So... what's a maniacal mastermind to do?
Likely, the last thing you expect.
You know the feeling of the few days leading up to your birthday, you get so excited because soon the whole day will be about you?

And then the day comes and all the good feels of people calling you, texting you, and telling you, "Happy Birthday" makes you so pleased that you were born that day?

And then around 11:50 PM that night when things wind down and you start to miss all of the happiness that your birthday brings? That is how I felt about Beard Science.

The days leading up to where I could finally sit down and read it were the few days before my birthday; I was ecstatic.

I was more than ready because I knew that Cletus was going to blow my socks off.

I rejoiced when it popped up on my Kindle.

I got giddy when I opened the first page and got to experience all the wonderfulness of Cletus and the gang.

And I have fallen into a slight depression after finishing it because:
1
I have no more Cletus and I LOVE Cletus
2
I didn't want it to be over.

I wanted it to continue.
3
I have no more Penny Reid books until her next one comes out and that is a long time from now.
I just loved this book so much that I wish I could experience it for the first time again and I haven't been able to build my time machine yet!
I knew cracking this book open that it was going to be extraordinary because Penny Reid is a book goddess and has never disappointed me.

What I didn't know is how extra-extra-extraordinary it was going to be.
So far, in my vast knowledge of all Penny Reid books, Drew has stolen my heart and kept it in his hands until today.

Cletus has come in and snagged half of my heart and is holding on tight.

He was more than perfect in this book and exactly who I dreamed him to be.

His quirks, his randomness, his brilliant, weird ideas, and his love just shined in this book.

The way he treated Jennifer made my heart skip beats. If I could slam Drew and Cletus together in a particle accelerator so that they could merge into one being, I'd do it.

(Maybe I'll start working on building that after my time machine is up and running.)

They would make the perfect man for me.
Jennifer was insanely perfect.

I was hesitant about her first in Beauty and the Mustache but her back-story made me fall in love with her character.

I saw what every character saw at first, a dressed up Banana Cake Queen but that was not who she was and with the help of our wonderful Winston gang, she blossomed into so much more.

I loved seeing her bust out of her mundane box and take over her own world.
I know that you all know this already but I have to say it again, I HEART PENNY REID!

I can't get enough of her books.

I can't get enough of her characters.

I can't get enough period!