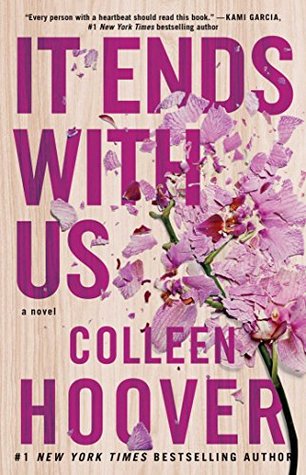 Title: It Ends With Us
By: Colleen Hoover
My Copy: Amazon.com
The BookWhisperer's Rating:
Lily hasn't always had it easy, but that's never stopped her from working hard for the life she wants. She's come a long way from the small town in Maine where she grew up—she graduated from college, moved to Boston, and started her own business. So when she feels a spark with a gorgeous neurosurgeon named Ryle Kincaid, everything in Lily's life suddenly seems almost too good to be true.
Ryle is assertive, stubborn, maybe even a little arrogant. He's also sensitive, brilliant, and has a total soft spot for Lily. And the way he looks in scrubs certainly doesn't hurt. Lily can't get him out of her head. But Ryle's complete aversion to relationships is disturbing. Even as Lily finds herself becoming the exception to his "no dating" rule, she can't help but wonder what made him that way in the first place.
As questions about her new relationship overwhelm her, so do thoughts of Atlas Corrigan—her first love and a link to the past she left behind. He was her kindred spirit, her protector. When Atlas suddenly reappears, everything Lily has built with Ryle is threatened.
There has been a flurry of talk surrounding this book for the past months.
Everyone I know who received an ARC loved it down to their core.
I have heard nothing but raves, praise, and emotional outbursts since this book went out on the stands.
It was hard to do the waiting game until it was released and once it was released, it was hard for me to finish up my previous commitments so that I could start "It Ends With Us" – I needed this book in my soul!
Wow, IEWU was everything and more of what I was expecting it to be.
I knew going in that every word was going to be great but somehow CoHo just made them even greater (if that is possible.)
This book is a beautiful, heart-wrenching story.
I can't even begin to explain the emotional toll it took on my soul.
Lily has to be the best and realest character by far, which made me live the hours I spent reading as her.
I lived her childhood and experienced her fear and love.
I lived her adult life and experienced her fear and love.
I felt like I was right in the pages with her feeling her joy, her achievements, her love, her heart, her worry, her sadness, her disappointment, and this is all because CoHo knows how to write so that the reader absorbs the character.
There is so much that happens in this book that isn't outlined in the synopsis so I am trying to shy away from spilling any secrets but in some ways I can't.
Lily and Ryle meet and it is magical.
I got swept away in the emotional bouts of their love.
My heart beat for them and only them and then the magical dust around their relationship started to fade.
Things got real; seriously real and this is when I found myself in awe of Lily's story.
It is beautiful, it is harsh, it is the love that anyone longs for, and it is the fear that we all have. IEWU is another "rock you to the core" kind of book that you find yourself still thinking about months after you finish the last page.
It is the kind of book that you hope you are brave enough to follow if you ever find yourself in such a situation.
"In the future…if by some miracle you ever find yourself in the position to fall in love again…fall in love with me."