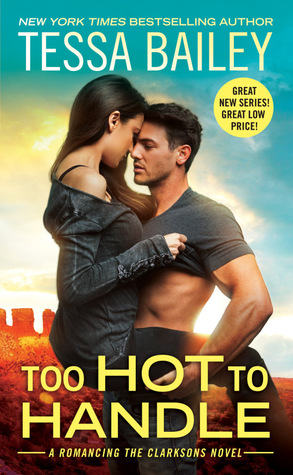 Title: Too Hot to Handle
By: Tessa Bailey
My Copy: Netgalley.com
The BookWhisperer's Rating:
When Rita Clarkson's Suburban takes its last breath on a New Mexico roadside, rescue roars up on a Harley in the form of smooth-talking honkey tonk owner, Jasper Ellis, a man as mysterious as he is charming. Rita's cross-country journey to New York City--with her three estranged siblings in tow--is only beginning, but now that Jasper has found Rita, his plans do not include her leaving.
I loved how this book started out, Rita standing in front of her mother's restaurant as it burns down and recapping the journal that her mother left for her with a request to jump into a chilly river on a cold New York New Year's Eve night.

After gathering up her siblings, Rita takes off and lands in Harley and meets Jasper – the sexiest man in Harley.
There were parts that I loved about this book and parts that I could have lived without.

Let's start with the loves.

I really loved Belmont and his character.

Something about the mysteriousness of him captured me the moment he appeared on the page.

I feel like his story with Sage is going to be a hot one and I can't wait.
I loved the sibling fights that start to sway into sibling comradely.

Each sibling learning a little more about each other as the trip to NY, and the stranded-ness in Harley, continued.
I was excited because Tessa Bailey always writes amazing, controlling men and I knew that Jasper's interactions with Rita would be hot and they were – to a point.

Sometimes it became too much raunchy than sexy so in those moments I found it hard to get into.

I also felt that the flaw that Jasper carried around was confusing.

Yes, he didn't want to be treated the way that town treated him but it didn't mean that he had to be so confusing to Rita when the moment finally happened.

When you read this book, you will understand what I am saying.
I guess the biggest obstacle I had to overcome was Rita.

For some reason she and I did not connect as a character and reader.

I felt that at the beginning, her standing in front of the fire was her most vulnerable moment in the book.

The most human like moment but then I felt that there was no other moment for her.

I didn't like her with Jasper because I didn't like her character.

She felt one dimensional to me. (I want you to know how much this pains me to say because Tessa Bailey is one of my favorites.)
I know this sounds like I didn't enjoy the book but I will say that I did.

It set up what I hope to be another great series by Tessa Bailey. *Can't wait for Belmont!!!* I do love Tessa Bailey and her writing but this book wasn't my favorite…and that happens sometimes.