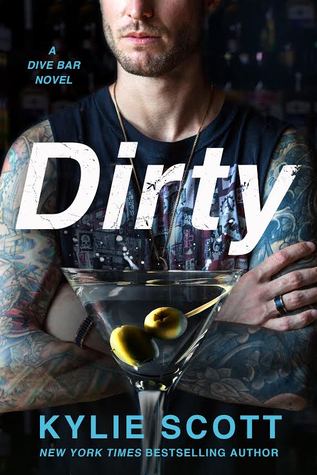 Title: Dirty
By: Kylie Scott
My Copy: Netgalley. com
The BookWhisperer's Rating:
The last thing Vaughan Hewson expects to find when he returns to his childhood home is a broken hearted bride in his shower, let alone the drama and chaos that comes with her.
Lydia Green doesn't know whether to burn down the church or sit and cry in a corner. Discovering the love of your life is having an affair on your wedding day is bad enough. Finding out it's with his best man is another thing all together. She narrowly escapes tying the knot and meets Vaughan only hours later.
Vaughan is the exact opposite of the picture perfect, respected businessman she thought she'd marry. This former musician-turned-bartender is rough around the edges and unsettled. But she already tried Mr. Right and discovered he's all wrong-maybe it's time to give Mr. Right Now a chance.
After all, what's wrong with getting dirty?
I must say that I was surprised about how much I liked this book.

There were many laughable moments that came from just silly antics and it made me like this book even more.
The first laughable moment came when Lydia becomes the coolest runaway bride ever.

Climbing over a fence and breaking into a house to sit in the bathtub while contemplating your future was good enough, then throw in the house owner is seconds away from jumping in the shower and finds you makes it even better.

Oh, did I mention that he is naked?

That is what happens to Lydia and it just gets better from there.
Both Lydia and Vaughan are just what each other needs to get through this rough time.

Lydia has self-doubt because her jerk-face ex-fiancé instilled it in her.

Vaughan needs someone to be in his childhood home because he has never faced it alone.

Together, they have hilarious moments, sweet moments, and eye-opening moments.

They realize what is missing in their world and start to work on getting themselves to where they need to be with the encouragement of each other.
This book also opens up a series for the wonderful characters we meet and I am excited to see where we go from here…especially Nell and Pat.