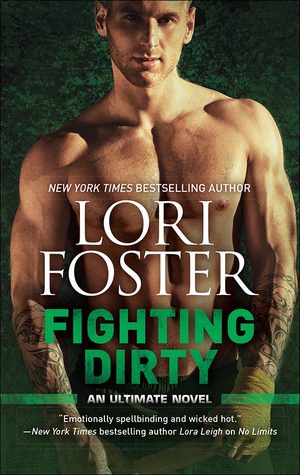 Title: Fighting Dirty
By: Lori Foster
Series: Ultimate #4
My Copy: Netgalley.com
The BookWhisperer's Rating:
With the life he's led and the muscles he's gained, Armie Jacobson isn't afraid of anything. Except maybe Merissa Colter's effect on him. It's not just that she's his best friend's little sister. Fact is, she deserves better. Women pursue him for one night of pleasure, and that's all he wants to offer. Until rescuing Merissa from a robbery leads to the most erotic encounter of his life.
Good girl meets bad boy. It's a story that rarely ends well. But Merissa is taking matters into her own hands. No matter how he views himself, the Armie she knows is brave, honorable and completely loyal. And as past demons and present-day danger collide, they're both about to learn what's truly worth fighting for…
I have been waiting for Armie's story for a long time AND I FINALLY GOT IT! The whole book was everything I have wanted and more – worth the wait.

They have been dancing around each other for a while and it was great to read how their story played out.
While this can be read as a standalone, I wouldn't suggest it because you will love the other books before it as well.

All of the characters in the older books play a huge part in this book so it was nice to see what the old crew was up to but wonderful to read about Armie and Merissa.

Also, reading how these men are all alpha-males, protective, sexy, and sweet plays a big role into why you should read this series.
Oh, their beautiful love!

While I knew walking into this book Armie didn't think he is good enough for Merissa, I didn't know what hard-core pursuer Merissa was going to be.

She kinda rocked it.

Every time Armie tried to turn away in the beginning of the relationship or fade away while in the middle of it, Merissa always pulled him back.

She reached in and lit a fire in his soul that burned bright for only her.

And it was hard because there was a lot of self-doubt that Armie carried around.

He wanted Merissa to have the best and he didn't think he was the best.

He wanted her safe and now that he was in the spotlight, a lot of scary events start to happen.

While he pushed and pulled her, Merissa held on tight because she knew that her love with Armie was exactly what she wanted.
While I loved everything about this story, the suspense, the drama, and the love, I particularly loved Merissa's pull on Armie.

He physically fought in and out of the ring but Merissa fought for their relationship.

Armie doubted and Merissa knew what they could have and worked hard so that it would last.
Their story was beautiful and I can't wait to continue this series with the rest of the Ultimate crew.