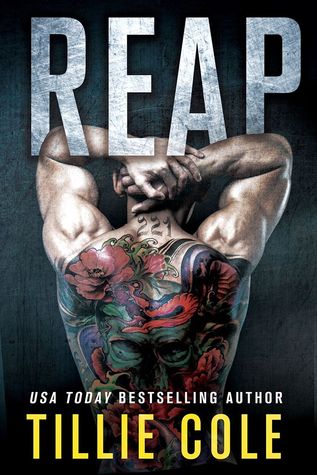 Title: Reap
By: Tillie Cole
Series: Scarred Souls #2
My Copy: Netgalley.com
The BookWhisperer's Rating:
Raised as a prototype for the Georgian Bratva's obedience drug, 221 fails to think, act, or live for himself; he's his master's perfectly-crafted killing puppet. Standing at six-foot-six, weighing two-hundred-and-fifty pounds, and unrivaled in to-the-death combat, 221 successfully secures business for the Georgian Mafiya Boss of NYC, who rules the dark world of the criminal underground. Until his enemies capture him.
Talia Tolstaia dreams to break from the heavy clutches of Bratva life. She dreams of another life--away from the stifling leash of her Russian Bratva Boss father and from the brutality of her work at The Dungeon, her criminal family's underground death-match enterprise. But when she stumbles upon her family's captive who is more monster than man, she starts to see the man underneath. A powerful, beautiful, damaged man whose heart calls to hers. But sacrifices must be made--blood for blood...life for life...souls for scarred souls...
After reading Reap, I reassessed my thoughts on Raze.

Don't get me wrong, Raze was good but I connected a whole heck of a lot more with 221 and Talia.

Their story is so dark and beautiful. Their moments together are filled with anguish and then on the opposite side, so pure that it makes the story riveting to read.
Raze rescues 221 from the hands of his master and brings him to a hideout that Talia has chosen for as her get-away spot.

For weeks Talia observes 221 chained down in her basement until one night she can take no more and goes downstairs.

This leads to a kindling of trust, of friendship, and in the future, much more.

During this, Talia starts to fall for 221 and creates a safe haven for him as he is weaned off the drugs his master pumped in him.

During this time, 221 starts to internally battle what how his master raised him and if he is truly free.

His childhood memories start to come forward and everything that he knows he starts to question. Talia is there to help comfort him and when the time comes, to help fill in the blanks that he cannot remember.
I think the most beautiful thing about this book is the relationship that is forged between 221 and Talia.

In Raze, Talia is happy for her best friend Kisa for finding her lost love but longs to be so lucky.

When 221 is brought to her door, finding the one is the last thing from Talia's mind, but it is what happens.

They learn from each other, they create safety for each other, and they depend on each other.

These two characters wrap themselves up in their own world of growing love.

Knowing what (basically) an animal 221 was before and watching how he blossomed under the care of Talia was moving.

It just goes to show you that love can transform people.