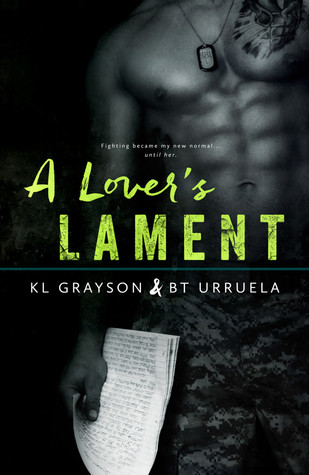 Title: A Lover's Lament
By: K.L. Grayson & B.T. Urruela
My Copy: Ebook from Publisher
The BookWhisperer's Rating:
In a matter of seconds my entire world changed, and it was in that moment that I stopped living and simply began to exist.
In my grief, I sent a letter to the first boy I ever loved. I hoped in writing it I'd find some peace from the nightmare I was living, some solace in my anger.
I didn't expect him to write back. I wasn't prepared for his words, and I certainly wasn't ready for the impact this soldier would have on my life. A deep-rooted hate transformed into friendship, and then molded into a love like I'd never known before.
Sergeant Devin Ulysses Clay did what I couldn't: he put the shattered pieces of my heart back together, restoring my faith in humanity and teaching me how to live again.
But now that I'm whole, I have a decision to make. Do I return to my life as I knew it and the fiancé I left behind, or do I walk away from it all for the only man to ever break my heart?
I've been living in hell, but you won't hear me complain.
These men depend on me, as I do them, and this brotherhood is the only family I've ever known.
The Army saved me from a callous mother and a life on the wrong side of the tracks that was quickly spiraling out of control. So unlike most of the men in my platoon, going home wasn't something I longed for.
I was content overseas, spending my days defending this country that gave me my life back. Fighting became my new normal … until her.
A letter from Katie Devora—a letter that I almost didn't open. Her words put a fire back inside of me that I didn't know I'd lost. She gave me hope during a time when I was fighting every day just to stay alive, and now it's time I fight for her.
After taking a few moments after finishing this book to collect my thoughts and dry my tears (yes, tears) I feel like I can fully express all the emotions that I went through with this beautiful story.
Katie and Devin's story starts out wonderfully.

Young love is so beautiful and they have it, but not for long.

Immediately, Grayson and
Urruela fast-forward you 10 years from their young love into their "just existing" lives.

Katie experiences a loss and out of nowhere, contacts Devin through a pen-pal program.

It surprises not only Devin to hear from Katie but Katie herself.

Then starts the amazing story behind these two.
I'll try to be discreet and not give anything away but I so want to talk to someone about all of this so I am just going to stick with talking about how I felt while reading Katie and Devin's story.

Dang, this book kinda took a toll on me.

My emotions were all over the place; I mean, I cried for Pete's sake! I was invested in these characters from the first sentence to the very last and basically walked away feeling like I lived in Katie and Devin's shoes.

I felt their loss, I felt their despair, and I felt their love.

Separated, these two characters just walked through life, not really living but together they created such an astonishing love that all of the dark past was erased and (as cheesy as it sounds) the sun shined brighter.

They gave each other the will to live, to survive and then another wrench gets tossed.
And this is where the tears came.

But don't let this scare you from reading this book. Everything that you will experience will be absolutely worth it; I promise.
This is the first book that I have read from these two authors and I would love to read more and hope that they collaborate together again…soon!