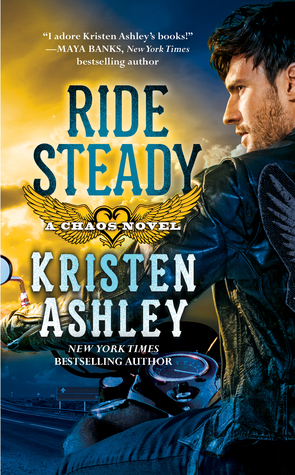 Title: Ride Steady
By: Kristen Ashley
Series: Chaos #3
My Copy: Netgalley.com
The BookWhisperer's Rating:
The ride of her life . . .
Once upon a time, Carissa Teodoro believed in happy endings. Money, marriage, motherhood: everything came easy---until she woke up to the ugly truth about her Prince Charming. Now a struggling, single mom and stranded by a flat tire, Carissa's pondering her mistakes when a vaguely familiar knight rides to her rescue on a ton of horsepower.
Climb on and hold tight . . .
In high school, Carson Steele was a bad boy loner who put Carissa on a pedestal where she stayed far beyond his reach. Today, he's the hard-bodied biker known only as Joker, and from the way Carissa's acting, it's clear she's falling fast. While catching her is irresistible, knowing what to do with her is a different story. A good girl like Carissa is the least likely fit with the Chaos Motorcycle Club. Too bad holding back is so damned hard. Now, as Joker's secrets are revealed and an outside threat endangers the club, Joker must decide whether to ride steady with Carissa---or ride away forever . . .
IT'S A KRISTEN ASHLEY BOOK! IT'S A KRISTEN ASHLEY BOOK! IT'S A KRISTEN ASHLEY BOOK!
Yes, that is how I felt when we got it, how I felt when I read it, and how I felt when I finished it.

This girl is the queen of queens when it comes to writing amazing books that take me for a ride.

She never disappoints and always knows what I need in my two main characters: a hard-as-steel man (with a smushy teddy bear on the inside) and a sweet, sassy lady (who can take someone down if necessary.)

With Ride Steady, you will definitely get this.
The book starts with Carson's story and what a dreadful life he has.

His mother left him, father is a drunk and abusive, and the only four people that he lives for are two of his neighbor, a teacher, and Carissa (the perfect girl who he thinks doesn't knows he exists.)
After leaving his life behind for several years, Carson comes back into Carissa's life by sheer chance – saving her and her son from a flat tire.

However, Carissa doesn't know that it is Carson, she only knows her knight in shining armor as Joker and from there starts a beautiful relationship.
I believe that you will love Carson/Joker like you love all the other KA's alpha males.

She has built a mold of those men and writes them on the page perfectly.

You will also love the fact that many of our favorite KA characters come out and play in this book.

You got some Nightingale, some Hawk, as well as the Chaos crowd.
But what I can guarantee that you will love is the love that Carson and Carissa build and experience.

How they work together to overcome all that stands in their way.