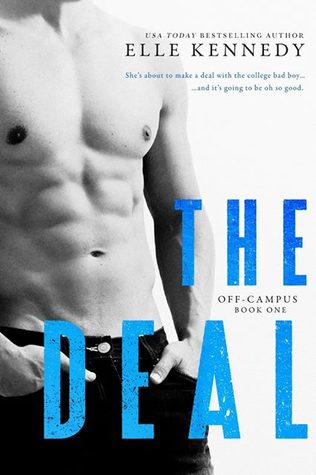 Title: The Deal
By: Elle Kennedy
My Copy: Amazon.com
The BookWhisperer's Rating:
She's about to make a deal with the college bad boy...
Hannah Wells has finally found someone who turns her on. But while she might be confident in every other area of her life, she's carting around a full set of baggage when it comes to sex and seduction. If she wants to get her crush's attention, she'll have to step out of her comfort zone and make him take notice…even if it means tutoring the annoying, childish, cocky captain of the hockey team in exchange for a pretend date.
...and it's going to be oh so good.
All Garrett Graham has ever wanted is to play professional hockey after graduation, but his plummeting GPA is threatening everything he's worked so hard for. If helping a sarcastic brunette make another guy jealous will help him secure his position on the team, he's all for it. But when one unexpected kiss leads to the wildest sex of both their lives, it doesn't take long for Garrett to realize that pretend isn't going to cut it. Now he just has to convince Hannah that the man she wants looks a lot like him.
I heard amazing things about this book as soon as it came out and I knew that I needed to have this in my possession immediately.

I have enjoyed Elle Kennedy since her Out of Uniform series so I knew that she couldn't go wrong with this book.
And she didn't.

The deal was just absolutely perfect.

Hannah (or Wellsy – which I loved) was one of the best young female characters that I have read in a long time.

She was beautiful, smart, filled with wit, and determined not to tutor Garrett at all.

But Garrett would not take no for an answer and played any card that he could.

He was a perfect bad boy/good guy for this book and made my heart swoon many of times.
All of it (except one moment) I loved and couldn't get enough of.

That one moment, which happened around 86% of the book, made me sad that Hannah would even consider following the a certain demand.

I did love Garrett's reaction to all of it after his emotions subsided.
A fantastic start to a series that I hope continues on the same path.