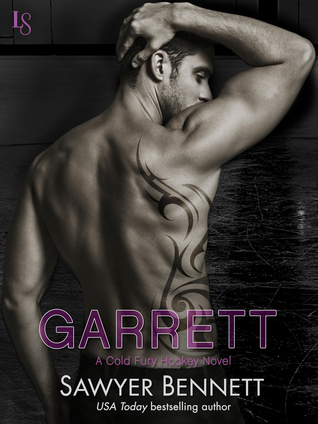 Title: Garrett
By: Sawyer Bennett
Series: Cold Fury Hockey #2
My Copy: Netgalley.com
Book Whisperer's Rating:
Carolina Cold Fury star Garrett Samuelson never wants to miss out on a single minute of fun. Whether he's playing hockey, hanging out with friends, or walking the red carpet with a new date on his arm, he lives every day to the fullest. When he meets Olivia Case, he sees someone who's exactly his type—confident, sexy, smart . . . his next fling. But the more he pursues her, the more Garrett shares a side of himself that other women don't normally get to see.
Olivia has been keeping a secret. While Garrett lives for the next thrill, Olivia's not sure she'll live to see the next day. She's undergoing treatment for some serious medical issues, and she doesn't have time for a relationship with no guarantees—especially one with a hot-as-sin womanizer who won't take no for an answer. But as she gets to know the real Garrett, Olivia can't help falling for him . . . hard. To reveal the truth would mean risking everything—but you can't score without taking the tough shots.
I loved Alex and Sutton after finishing the first book in this series. They were perfect, the book was perfect, everything was perfect.

However, after meeting Garrett and Olivia, I have decided that they are perfecter (yes, it is not a word but I am using it to make a point), their book was perfecter, and everything was more perfecter.
*perfecter= better than "perfect." Since I defined it, does that make it a word?*
There is just something about this couple that makes it all feels feel real.

Garrett is a super star on the ice and with the ladies, never committing to anything except hockey until the perfecter Olivia walks in and then his life changes.
After a few nights (and days) together, Garrett is smitten with Olivia.

He has completely changed his ways-manwhore no more!

And what was supposed to be a fun one-night fling for Olivia has made her change her mind once she starts seeing Garrett.

Love is in the air - everything is good, right?

Wrong, because crazy emotions start to bubble up and their connection starts to solidify.
*Bennett was smart and brought a little something different to the table. * Olivia is sick and when Garrett finds out, it rocks his world.

The one girl he has ever wanted might die but he can't let go.

But that is not it; he is fine with taking care of her.

In fact, he wants to take care of her and be the person that she relies on during her treatments but after what happens to a fellow friend (OH, THE FEELS!) Olivia doesn't know if she could let Garrett go through that torture if something were to happen to her.
So, yes, this is a summary, but it is a summary to say that this is a fantastic book that brings together polar opposite characters and show how well they compliment each other, how beautiful love is, and how scary the uncertainty of live can be.