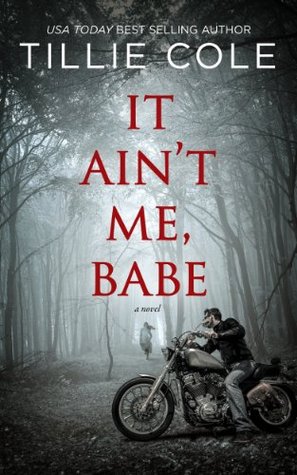 Title: It Ain't Me, Babe
By: Tillie Cole
My Copy: Amazon.com
BookWhisperer's Rating:
A meeting that should never have happened.
Many years ago, two children from completely different worlds forged a connection, a fateful connection, an unbreakable bond that would change their lives forever…
Salome knows only one way to live—under Prophet David's rule. In the commune she calls home, Salome knows nothing of life beyond her strict faith, nor of life beyond the Fence—the fence that cages her, keeps her trapped in an endless cycle of misery. A life she believes she is destined to always lead, until a horrific event sets her free.
Fleeing the absolute safety of all she has ever known, Salome is thrust into the world outside, a frightening world full of uncertainty and sin; into the protective arms of a person she believed she would never see again.
River 'Styx' Nash knows one thing for certain in life—he was born and bred to wear a cut. Raised in a turbulent world of sex, Harleys, and drugs, Styx, unexpectedly has the heavy burden of the Hades Hangmen gavel thrust upon him, and all at the ripe old age of twenty-six—much to his rivals' delight.
Haunted by a crushing speech impediment, Styx quickly learns to deal with his haters. Powerful fists, an iron jaw and the skillful use of his treasured German blade has earned him a fearsome reputation as a man not to be messed with in the shadowy world of outlaw MC's. A reputation that successfully keeps most people far, far away.
Styx has one rule in life—never let anyone get too close. It's a plan that he has stuck to for years, that is, until a young woman is found injured on his lot… a woman who looks uncannily familiar, a woman who clearly does not belong in his world, yet a woman he feels reluctant to let go…
Just putting a warning out there that this book messes you.

I knew going into this book that it would be something that might slightly damage me and it did more damage than slightly.
It is also an extremely harsh book.

There are no rainbows and unicorns running around in this book; so warning number two.

Seriously, take this warning; if you can't handle a harsh life, violence, and just a whole lot of sadness then you might want to rethink this book.

But if you can handle it, this book is totally worth the ride.
When I say that this book was hard-core, I mean that it is hard-core.

Styx has led a hard life and so has Salome (Mae); neither knows of the kind of world that either has lived but their connection is so powerful that it just works.

They both find that it is not easy and the world around doesn't make it any easier.
The action, drama, and suspense are what made this book such a great read for me. Plus, reading how Styx was such a hard-core, alpha male, Prez of this biker gang that when he showed his sweet and soft side, it just made him whole.

And I am not going to forget the fact that Mae did not let any of these huge bikers get away with anything when they were around her.

I loved how she put them in their place.
A final note about this book, OH MY GEE, the ending…how could you write an ending like that?

Stuffed with revenge and left where I have to continue this series immediately.