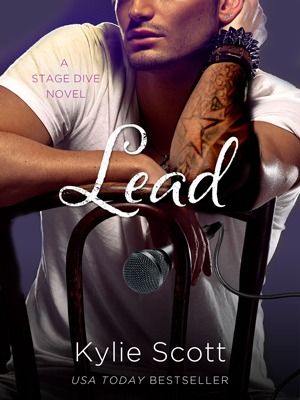 Title: Lead
By: Kylie Scott
Series: Stage Dive #3
My Copy: Netgalley.com
Book Whisperer's Rating:
As the lead singer of Stage Dive, Jimmy is used to getting whatever he wants, whenever he wants it, whether it's booze, drugs, or women. However, when a PR disaster serves as a wake-up call about his life and lands him in rehab, he finds himself with Lena, a new assistant to keep him out of trouble.
Lena's not willing to take any crap from the sexy rocker and is determined to keep their relationship completely professional, despite their sizzling chemistry. But when Jimmy pushes her too far and Lena leaves, he realizes that he may just have lost the best thing that ever happened to him.
We finally, finally, get to read Jimmy's story and I loved every bit of it.

I found Lena, his assistant, who is hired to keep him calm and out of trouble, so wonderful. She did not put up with any of his crap during the entire book.

Lena was a strong, female character and is the only personal assistant who has been able to manage Jimmy and his insane, emotional outbreaks.

Her character was so refreshing because she was able to bring out a side of Jimmy that we, as the readers, hadn't seen in the first two books.

And although Jimmy was still cocky, we got to see that he genuinely cared about people, especially Lena.
Normally, I would say that I hate the push/pull relationships in books.

He/she loves her/him but can't commit but can't have anyone else want that person- I hate that crap but this book was completely different.

For some reason, this push/pull relationship that Jimmy and Lena had defined who they were and the future they are bound to have.

Lena, being the only true friend that Jimmy has had for himself, he doesn't want to ruin that by starting a relationship, but he can't not want her for more.

Meanwhile, Lena is trying everything under the sun to hide her feelings and get away.

However, Jimmy keeps pulling her back to him.
And when they collide, oh my!
The series just keeps on getting better and is highly entertaining as well.

I need the fourth installment in this series soon. Ben's story is going to be so great; I can feel it!