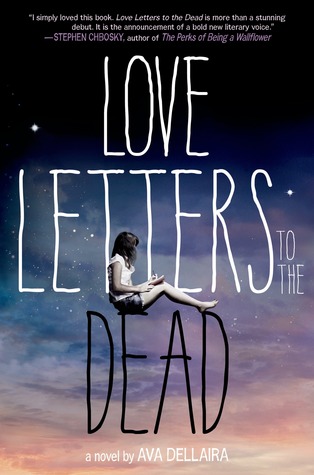 Title: Love Letters to the Dead
By: Ava Dellaira
My Copy: Ebook from Netgalley
BookWhisperer Rating:
It begins as an assignment for English class: Write a letter to a dead person. Laurel chooses Kurt Cobain because her sister, May, loved him. And he died young, just like May did. Soon, Laurel has a notebook full of letters to people like Janis Joplin, Amy Winehouse, Amelia Earhart, Heath Ledger, and more; though she never gives a single one of them to her teacher. She writes about starting high school, navigating new friendships, falling in love for the first time, learning to live with her splintering family. And, finally, about the abuse she suffered while May was supposed to be looking out for her. Only then, once Laurel has written down the truth about what happened to herself, can she truly begin to accept what happened to May. And only when Laurel has begun to see her sister as the person she was; lovely and amazing and deeply flawed; can she begin to discover her own path.
This is a story about love, death, and the power to move forward. What begins as an English project soon turns into a very healthy alternative to therapy. Laurel is grieving over the loss of her beloved family, but seems to be stuck. Trying to find where she belong is difficult with this help of writing letters to famous dead people she travels the hills and valley of despair. What she discovers is life at the end of this dark tunnel, and slowly but surely the healing she requires to move on. This is sad yet motivating story for the young adult audience.