In My Mailbox is hosted by the Story Siren!! It is a way for everyone to preview the books they get throughout the week. Books can be recieved from any means borrowing, purchasing, and reviewing.
Received for Review:

Pretty Dead by Francesca Lisa Block

Charlotte Emerson seems to have the perfect existence. She is enviably beautiful and lives alone in a mansion full of treasures and beautiful clothes, perched atop the cliffs of the Pacific Palisades. But Charlotte has been lonely and dead for almost a century. Now she might get a second chance at life.

The Amanda Project: Invisible I by Stella Lennon
Amanda Valentino changed everything. Callie Leary has exactly one thing, and one thing only, in common with Nia Rivera and Hal Bennett: They were each chosen by Amanda to be her guide. When Amanda arrived at Endeavor High, she told Callie she moves around a lot and always picks one person to help her navigate the choppy waters of a new school....

Cursed the Death by L.A. Banks
Secret government operative Sasha Trudeau arrives at the scene of a murder, only to discover that a Fae creature has been killed—in a whole new kind of way. What is the meaning behind this mysterious ritualistic killing? What did the victim do to deserve it? Sasha fears that the Vampires and Unseelies have formed an unholy alliance…and they're ready to unleash their darkest arsenal of magick yet.

Teaming up with her mate and fellow Shadow Wolf, Max Hunter, Sasha tries to penetrate the paranormal community for clues. Meanwhile, members of the Wolf Clan are turning against one another as they race to uncover the meaning behind an ancient Unseelie curse. Even Sasha is not immune to this powerful magick, and soon finds herself drawn to a sensual, dangerous dance—one that could cost her own life…
I Never Fancied Him Anyway by Claudia Carroll
Cassandra can see the future with 100% accuracy . . . for everybody except herself. Ever since Cassandra was a little girl, she's had a remarkable psychic gift. Now a successful columnist for a weekly magazine, she predicts the future with uncanny precision. And thanks to her stunning co-worker Charlene—and the latest love of Charlene's life, hot television producer Jack—Cassandra's moving up . . . to daytime TV!
The trouble is, whenever Jack's around, the hapless seer's second sight goes dim—something that always seems to happen when a desirable single male is around. But despite a truly abysmal dating record, she believes Jack is the one for her . . . though Charlene might strongly disagree. Is true love or outrageous catastrophe right around the corner? Cassandra doesn't have a clue. But it seems even being able to foretell the future can't protect her from what destiny has in store . . . and sometimes fate won't allow you to look before you love.
Harper Collins website stated I Never Fancied Him Anyway is already in the works for a Major Motion Picture by the same producer as P.S. I Love You and The Devil Wears Prada.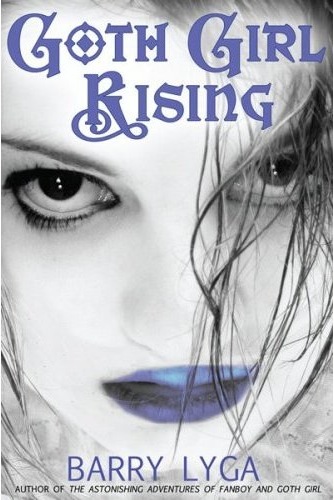 Goth Girl Rising by Barry Lyga
Time is a funny thing in the hospital. In the mental ward. You lose track of it easily.

After six months in the Maryland Mental Health Unit, Kyra Sellers, a.k.a. Goth Girl, is going home. Unfortunately, she's about to find out that while she was away, she lost track of more than time. Things seem normal at first. Roger's his typical, pain-in-the-ass fatherly self. Jecca and Simone and the rest of the goth crowd still do their thing. And Kyra is back in black, feeling good, and ready to make up with the only person who's ever appreciated her for who she really is. But then she sees him. Fanboy. Transcended from everything he was into someone she barely recognizes. And the anger and memories come rushing back. Fanboy. The Spermling. Miss Powell. Roger. Her mother. There's so much to do to people when you're angry. Kyra's about to get very busy.
Awesome Week... Can't wait to start reading them.